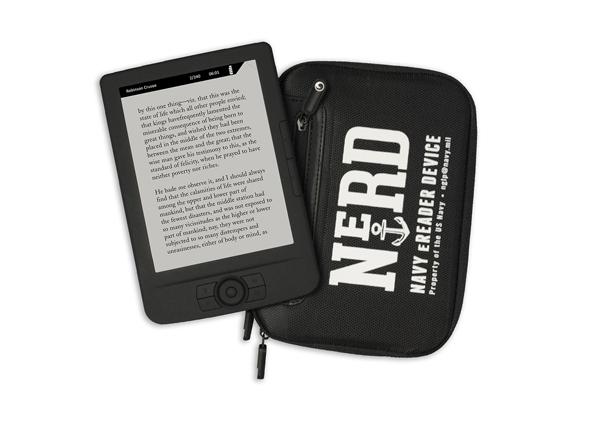 I don't think nerd is a derogatory term at all. I think people should be proud if they're called nerds or feel nerdy, because having intelligence as a dominant trait is cool. But the word can have some negative connotations and people often use it as a criticism or in a self-depricating way. So is it weird that the Navy's new e-readers are called "Navy e-Reader Devices" or NeRDs? Yeah, kind of.
Kindles, iPads, and other tablets/e-readers are currently forbidden on Navy vessels. They take up space, and, more importantly, can be a security threat because of connectivity points like wi-fi, expandable storage, and USB ports. So the Navy's General Library Program partnered with the digital content service Findaway World to create NeRD. The devices don't have Internet access, and their content is fixed.
The idea is that the Navy can expand the reading material it offers on ships and submarines for recreation, while also throwing in some texts for professional development that would be too big to fit in the small locker that's usually allotted for books on Navy vessels.

Ralph Lazaro, the vice president of the digital products group at Findaway World, says that the Navy actually suggested the name NeRD.
We knew we wanted to do something fun with name … and especially because the Navy came up with it, we were like that's awesome. We thought the NeRD would be viewed more as a playful play on words. We did have this discussion a few months ago when we came up with that name together, does it send the wrong connotation? But we felt like the word nerd has transcended and evolved … especially to be something that denotes enthusiasm.
Lazaro says that the project has been rewarding because he has been getting positive feedback from Navy personnel. Former sailors say they wish they had had something similar during their service, and sailors currently on active duty say that they're excited to start using NeRDs. The e-readers will be allotted to Navy vessels based on size, and will be shared among the sailors.
NeRD is certainly a convenient acronym, and according to the Wall Street Journal the e-readers will contain traditional nerd titles like Lord of the Rings and Ender's Game in addition to bestsellers and classics of other genres.

Lazaro says that Findaway World was "blown away" by the Navy's NeRD idea, and did all of the logo design and packaging around it. "The navy, their expertise is not necessarily product branding," he said. Presumably the NeRD name won't keep even the most image-conscious sailors from relaxing with a good book, but a quick PSA just in case: Reading is an innocuous (and important) way of absorbing information. But if you've reached the end of this post, you probably agree.

---