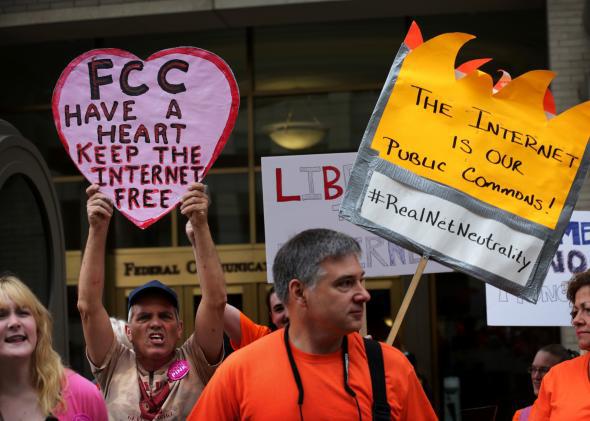 On Thursday, the FCC voted in favor of Chairman Tom Wheeler's proposed net neutrality reforms, which include authorizing the Internet "fast lane." Under the plan, Internet service providers may be allowed to charge websites for privileging their content and providing it to consumers at faster speeds.

The FCC committee approved the proposal in a 3-2 vote. Though it is a big step forward (or backward, depending on your perspective), the decision is not final—it will now be opened to 120 days of public comment. The FCC is working to get revised rules on the books by the end of the year, though.
In defending the plan against critics, Wheeler noted that the system wouldn't allow "commercially unreasonable" practices, like delivering content to consumers at slower speeds than the baseline they are paying for from their ISP. Wheeler told the New York Times recently, "The focus of this proposal is on maintaining a broadly available, fast and robust Internet. … Our goal is rules that will encourage broadband providers to continually upgrade service to all."
Many mistrust the proposal, though, including some large tech companies and protesters who were demonstrating both outside the meeting and inside. Four protesters were removed by security in the course of the proceedings.
Even Democrats who voted in favor of opening the rules to public comment had concerns. "I believe the process that got us to rulemaking today was flawed," commissioner Jessica Rosenworcel told the Washington Post. "I would have preferred a delay."
The Times notes that the two Republicans who voted against the plan oppose it on the grounds that the FCC is overstepping its authority by making rules that Congress should instead decide on.
Though the open comment period leaves time for reconsideration, it seems like it will take significant force for protesters to halt the initiative's momentum. One movement gathering steam: getting people acquainted with the slow lane.
---