Weather, just stop. This is getting ridiculous.
After one of the wettest days in New York City history, folks on the East Coast can be forgiven if they're experiencing a bit of meteorological fatigue. Continuous weather records have been kept in Central Park since 1869.
That's more rain in a single calendar day than fell in either Hurricane Irene or Sandy (though Irene's landfall produced about 2 inches more than this past Tuesday/Wednesday over its two-day landfall).
Wednesday's rains caused at least two mudslides in the New York City area.
One delayed the Metro North commuter rail line. There was also a landslide in the Baltimore area and this very wet bus in Philly—not to mention reports of boat rescues in Washington, D.C. Some rivers across the region crested among the top 10 levels in history.
The wet weather in the East has been matched in intensity with dryness out West. There was virtually zero rain in Texas this week, where drought deepened to levels not seen since the drought of 2011-12, one of the worst in the state in a generation. Drought now covers 100 percent of California.
Adjusting for local climate, heavy rains in the Northeast this week were on par with those in other parts of the country east of the Rockies. After tornadoes tore through the South, an epic deluge brought more than 20 inches of rain in two days to parts of Florida. All the while, the center of the storm system has been spinning through the Upper Midwest—in Minneapolis, it's rained 10 of the last 12 days.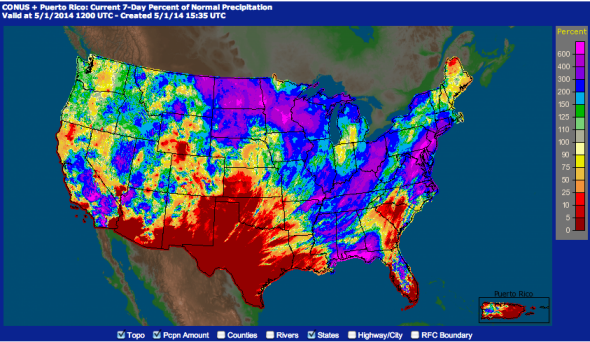 Increasingly, the science is showing that extreme floods like this will be a fixture of a warmer future. As I wrote yesterday, extreme rainfall events are becoming more common, a trend that is expected to continue.
A recent study found that the odds of ocean flooding in New York City have already increased 20-fold since the mid-1800s, due to a combination of sea level rise, stronger storms, and changes in local geography like wider shipping channels and fewer wetlands to buffer the surge.
It's not yet totally clear whether Atlantic storms will keep getting stronger with climate change, but sea level will surely continue rising due to melting ice at the poles and on mountaintops worldwide. As the world's oceans warm, sea water itself also expands, adding to the oceans' volume. A continued do-nothing approach to climate change could cause Hurricane Sandy-level flooding in New Jersey nearly every year by the end of the century, previous research has shown.