To commemorate Earth Day this year, NASA asked the world to take a selfie. More than 50,000 people did, and the result is a massive, 3.2 gigapixel mosaic of us, blended with weather satellite imagery taken at the same time.
According to NASA, "People on every continent—113 countries and regions in all—posted selfies. From Antarctica to Yemen, Greenland to Guatemala, Micronesia to the Maldives, Pakistan, Poland, Peru—and on."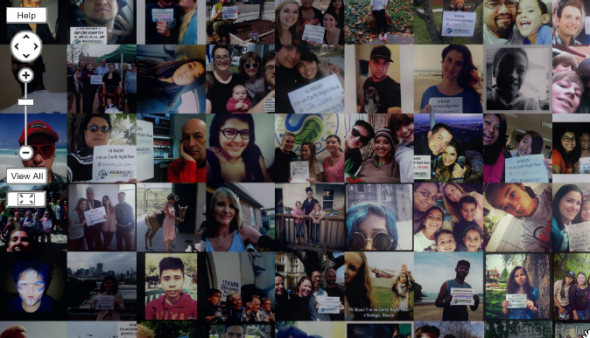 The weather image blended with photos from the ground was taken by what's quite likely the most advanced weather satellite we've ever had: the Suomi NPP polar orbiting satellite, launched in 2011 and now the primary high resolution Earth-observing arrow in NOAA's weather-forecasting quiver. This satellite provides "enhanced true color" images of the Earth in 10 color channels (not just the standard RGB). The noticeable difference helps scientists improve forecasts for snowstorms, tornado outbreaks, and hurricanes. The satellite orbits the Earth every 102 minutes.
Here's the image that Suomi NPP captured on Earth Day, before it was blended with your selfies: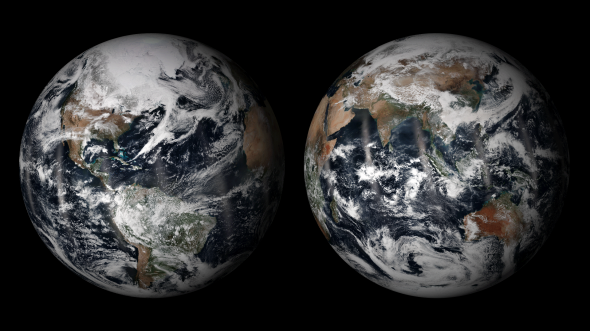 While many people think of NASA in terms of interplanetary exploration and mind-bending photos of distant galaxies, the agency's in the midst of a flurry of satellite launches focused on Earth. If all goes to plan, five major new satellites will be in orbit by the end of 2014, the most new eyes on our home planet in a single year in more than a decade.
An interactive explorer of the mosaic is available via GigaPan.