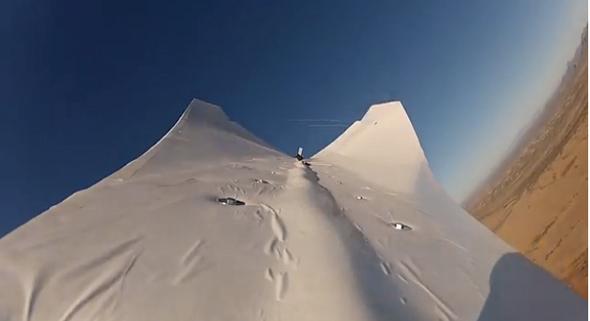 Paper airplanes are the foe most of us never quite defeated during elementary school. It's tough to make them fly straight, get real lift, and build them to glide around instead of nose diving. So it's hard to imagine that a 45-foot-long, 26-foot-wide paper airplane could do much of anything. But Arturo's Desert Eagle— equipped with a GoPro, of course—had a 10-second flight over Arizona desert in March.
The Pima Air & Space Museum runs a Great Paper Airplane Project every year to get children interested in aerospace. Kids submit paper airplane designs and the winning entry (this one by 12-year-old Arturo Valdenegro) gets turned into a small model and then is built for real.
The Los Angeles Times reports that Arturo's Desert Eagle got lifted 2,700 feet into the air by a Sikorsky S-58T military helicopter where it was released. Originally the paper airplane was supposed to start its flight at 5,000 feet, but it was swaying too much to go all the way there. It still flew for about 10 seconds at about 100 mph before starting to break up and crash landing.
There are lots of great (and extreme) moments that have been captured by GoPros. They got amazing footage of Felix Baumgartner's free fall from space, took terrifying video from the perspective of Olympic lugers, and showed us what it's like to come face to face with a pelican. But there's something especially regal about the flight of Arturo's Desert Eagle. The video is like real life footage from Miyazaki's The Wind Rises: simultaneously exciting and strangely calm.
---