Has Amazon finally abandoned its commitment to extraordinary customer service? That's the argument some critics are making about the company's ongoing fight with the publisher Hachette; the online store has delayed delivery of Hachette titles and opted not to presell forthcoming Hachette books (among other things) as the two corporations negotiate terms. "Amazon is violating its own code," Farhad Manjoo wrote in the New York Times. "To win a corporate battle, Amazon is ruining its customer experience." At Reuters, Jack Shafer pledged to ditch his much-used Amazon account: "[B]y essentially banishing many Hachette titles from its stock, Amazon, which ordinarily puts its customers first, has put them last."
Both of these posts evince an air of betrayal. But I confess I'm not surprised. I'm a devoted Amazon shopper. I've been a Prime member since at least 2009. I am chagrined to admit that last year, as I stocked my house to accommodate the arrival and ongoing sustenance of twin boys, I made 106 separate orders on the site. But my strong sense is that Amazon has been slowly, steadily, and significantly backing away from its commitment to customer service for at least the past two years. In a lot of little ways, the Amazon experience is getting worse.
Consider the case of the "Add-on Item." Say your kid has a runny nose, and you're trying to buy a pack of Boogie Wipes—yes, these exist; the grape flavor is best—before a weekend trip. You find them on Amazon (cost: $6.50), toss them into your cart, figure with free two-day shipping they'll arrive by Friday, and then: There's no "Buy" button. The central promise of Amazon—one click and it's effortlessly yours—is broken. Instead, there's a message: "Add-on Items ship with orders that contain $25 of items shipped by Amazon." So, you think about what else you might need. Click around the site and throw a few more staples in the cart. Diaper Genie refills? The book you'd been planning to pick up at the local store? Why not! Eventually you notch over $25 and can purchase the damn thing. But it's taken more time and money than you expected.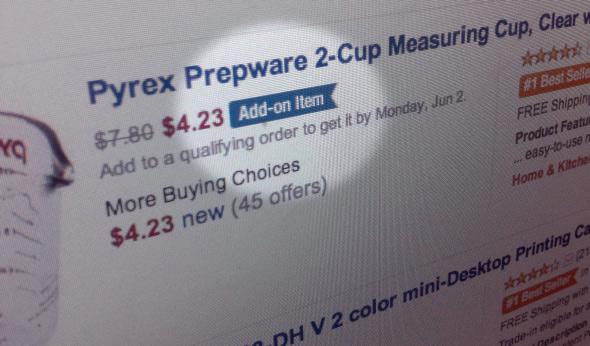 There's also that phrase "shipped by Amazon." In my experience, Amazon itself carries fewer of the things I want than it did years ago. This may have more to do with the changing nature of the things I want than changes in Amazon itself. But as of 2013, third-party vendors were responsible for 40 percent of Amazon's product sales. Sometimes, these products are not eligible for Prime—I think it has to do with whether the vendor is using Amazon's fulfilment service. Finding $25 worth of Prime-eligible things I want from Amazon proper, not Amazon partners, takes an extra minute or two. It's a very minor annoyance, but it's friction, every time.
And then there's the fact that third-party sellers who don't use Amazon's fulfillment service don't always deliver their goods with Amazonian speed. And that in March the price of Prime went up, from $79 to $99 a year. And that non­–Prime members must now spend $35, not $25, to qualify for free super-saver shipping. (Over at Gawker, Tom Scocca notes that his preferred parenting staples are sometimes unavailable altogether, which kicks him over to Diapers.com, an Amazon-owned site that has speedy, but not free, delivery—unless he spends more than 50 bucks.)
I recognize that these quibbles sound like the ravings of a spoiled woman. But we've all been spoiled by Amazon, as a matter of corporate strategy. When Jeff Bezos founded Amazon, the idea was to put the consumer first: to make buying books and eventually other things online so simple and seamless and delightful that shopping in person became an onerous and retro chore, like darning socks or churning butter. One colleague recalled an amazing initiative from the company's early days: In 2001, when the price of postage rose from 33 to 34 cents, the company included a sheet of one-cent stamps in every package, along with a note from Bezos: "From the start, one of our primary goals at Amazon.com has been to make the lives of our customers easier." The stamps, he wrote, were intended to spare customers "the hassle" of a trip to the post office: "We're only talking 10 cents in value, but hopefully the time you'll save will be worth much more."
For years, this spirit has been in evidence. Amazon has figured out how to make shopping online so easy it feels essential. It has placed customer service above everything else, including profits. (The customer service is so mesmerically good, in fact, that many of us have queasily ignored reports of troubling labor practices in Amazon's backbreaking warehouses.) But the truth is, the consumer experience Amazon has been providing all these years has been unsustainable. And I have a sense—not data, but the horse sense of a woman who knows her steed—that the sky's-the-limit era of consumer cosseting at Amazon is over. Other diehards have felt it too. Packages arrive a bit later. Items can be harder to find. We'll still get most of what we want, pretty cheap and pretty fast. But everything? Near instantly? Not anymore.
I'm not sure this is a bad thing. Amazon needs to turn a profit eventually—Wall Street won't subsidize our extraordinary shopping experiences forever—and it probably doesn't make economic sense to send me a single $5 roll of tin foil. (Amazon contends on the site that the Add-on Items program actually allows it to stock more inventory—small, cheap, lightweight stuff it wouldn't make sense to ship solo for free.)
As for Hachette, Amazon's behavior in making Hachette products less available strikes me as a hardball negotiating tactic of the sort we'd allow (or not even notice) from a retailer that hadn't promised us everything, endlessly, all the time. It feels more dastardly for Amazon to suppress books than Boogie Wipes. But is what's happening really so different? At first glance, the former feels like anti-intellectual retribution and the latter like a sensible business decision, but there's no rule that says we have to buy our Malcolm Gladwell on the site. And I'd guess that the motives in both cases are quite similar: Amazon is looking out—with new vigilance—for the bottom line. Given the backlash, the Hachette moves may prove financially unwise. But I can't say they feel out of step with the slightly less consumer-pampering site of the past few years.
Even the not-quite-as-convenient Amazon of today still feels, sometimes, like a magic trick. It has gone from truly extraordinary to merely extremely good. It provides much better customer service than nearly anywhere else. (Complain about a damaged or misrepresented item and the company will rectify matters stat.) Nearly anything you want can be summoned to you, for a price.
But what I mourn is the heady delights of Amazon's early days, when Bezos and co. were doing somersaults to please us. Amazon offered us a dream of the future of commerce—a tantalizing wonderland of insane ease. Lately it feels like the dream was just that—fantasy.