This post arises from a Slate Plus "member takeover," in which Slate Plus members voted on which popular smartphone game they wanted Will Oremus to review.

"The room is cold," the game begins. "The fire is dead."
A single course of action avails itself: "light fire."
Click and you'll ignite a slow burn of a story that unfolds in terse sentences, tense lulls, and the occasional goosebump-raising revelation. Decisions that seem benign become morally muddled. Acts that feel necessary blur into acts that feel gratuitous. Your protagonism is called into question.
The game is A Dark Room. It's minimalist, text-based, and costs 99 cents on the iTunes App Store, where it has emerged as an unlikely but thoroughly deserving bestseller. And it's as compelling as it is unsettling.
The gameplay takes inspiration from a burgeoning subgenre known as "idle games," in which you accumulate goods over time until you find yourself presiding over a sort of microeconomy. A Dark Room situates these mechanics in an ominous postapocalyptic landscape, evoked in spare language inspired by Cormac McCarthy's The Road. And it layers onto them a role-playing, exploratory element, along with jolts of narrative that prod the story into darker terrain without ever fully illuminating it.
To say more about the game's plot would diminish the mystery and foreboding that pervades the experience of playing it for the first time. It's the rare mobile game that delivers twists remarkable enough to justify spoiler alerts.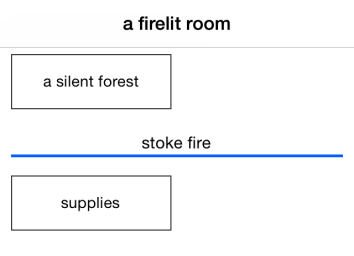 More than that, it's a reminder that a small screen and a tiny processor needn't constrain game developers' creativity. Developer Amir Rajan built the mobile version of A Dark Room after stumbling across Michael Townsend's Web-based original. He was so enthralled that he emailed Townsend for permission to port it to iOS, then spent five months tweaking and optimizing the experience for the smartphone. His version is, if anything, more addictive than the original. (It's not available for Android, unfortunately.)

A Dark Room is in many ways the opposite of the year's biggest smartphone sensation, Flappy Bird. It's not fast, not short, not difficult, not absurd, and does not rely on coordination. Yet the games share an economy of design, a simplicity of control, and a finely honed balance between persistence and reward.
Both have also begotten references to Nietzsche's Beyond Good and Evil, albeit for quite different reasons. In A Dark Room's case, the quote that comes to mind—and is in fact mentioned by one of the creators in the game's closing credits, although never in the game itself—is this one:
He who fights with monsters should look to it that he himself does not become a monster. And when you gaze long into an abyss, the abyss also gazes into you.
OK, A Dark Room won't turn you into a monster, and in the end it's probably not quite as profound as I've made it out to be. The gameplay is generally engrossing, though it requires a little more patience than your average smartphone thumb-masher. Its replay value is limited, which in a way is a shame, but also mercifully prevents it from hoovering up your idle hours like Candy Crush or Dots. And some might simply find it off-putting, whether due to the deliberate pacing, the literary airs, or the eventual violence. But the game's 4.5-star average rating on the App Store suggests that it's resonating with a wider audience than you might expect.

If A Dark Room has a fundamental flaw, it's that the player's agency is constrained to an extent that limits her sense of responsibility for the consequences that flow inexorably from her choices. Then again, that might be the most devastatingly realistic thing about it.