A slow-moving storm system is producing one of the most prolonged, intense outbreaks of the past decade.
More than 100 tornadoes across 11 states have been reported over the past two days. The death toll has reached 29, according to CNN. More tornadoes are likely on Tuesday.

The tornado threat will shift east slightly on Tuesday as the outbreak reaches its third day, with Mississippi and Alabama again at greatest risk for severe weather. The scope of the storms remains enormous: More than 70 million people will be at risk on Tuesday, according to the Storm Prediction Center. By evening, a secondary round of tornadoes could threaten Atlanta to the Carolinas to Washington.
Besides tornadoes, total rainfall has already reached in excess of 8 inches in some parts of the South. Heavy rains will begin on the East Coast on Tuesday, with similar totals possible by week's end. Flood watches are posted in a continuous swath from New Orleans to New York City.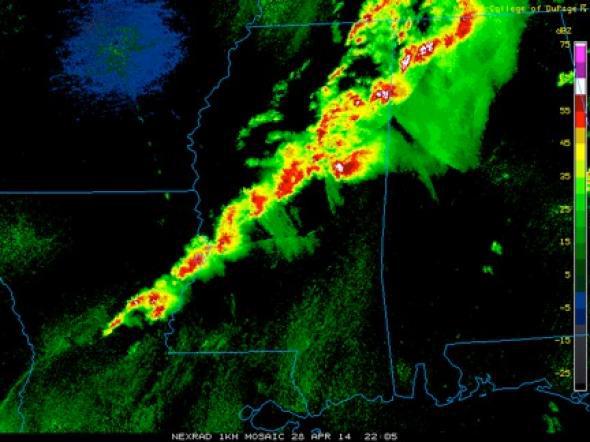 By all accounts, this week's tornado outbreak is rare. It's unlikely, but Tuesday could mark the first time since May 3-5, 1999, with three consecutive days of "high risk" of severe weather. That's the only other time such a severe and long-lasting outbreak has been forecast by the Storm Prediction Center since accurate tornado forecasts became possible in the 1980s.
As you might expect with such a slow-moving storm system, some of the same areas of Mississippi and Alabama that endured tornadoes on Monday will be at risk again on Tuesday.
Close calls abounded Monday. A tornado narrowly missed the National Weather Service office near Jackson, Mississippi:
Across the state, on the campus of Mississippi State University:
Around midnight local time, a particularly nasty looking tornado disintegrated just a few miles from downtown Birmingham, Alabama:
For those that weren't as lucky, like parts of Arkansas, survivors began to pick up what was left:
As tornado forecasts continue to improve, scientists and weather enthusiasts who put themselves in harm's way on days like this have continued to refine their methods. The past and future of tornado chasing were on display during Sunday's deadly storms in Arkansas. Using a drone, Brian Emfinger, a photographer for KATV in Little Rock, captured the aftermath of the Mayflower, Arkansas, tornado late Sunday night, near the point where it crossed Interstate 40:
Scientists are making increased use of drones for weather surveillance near tornados, too. One such project at the University of Colorado has been ongoing for several years, but according to a 2010 interview with Scientific American, the project's director said federal regulations have slowed down his team's research:
Federal Aviation Administration (FAA) regulations restrict the [the University of Colorado's UAV] from freely flying throughout the range of "tornado alley"—the area in the U.S. between the Rocky and Appalachian mountains. Currently, the researchers can only work within about 58 small grids of land, each about 1,000 square kilometers in area in northeastern Colorado and portions of Kansas and Nebraska. Getting flight clearance in just these areas required three years of coordination with the FAA. The researchers had to file 60 applications in order to be waived from having to comply with all the rules specific to manned aircraft.
When Brian Argrow, director of the University of Colorado Research and Engineering Center for Unmanned Vehicles, announced that he wanted to apply for the entire area stretching from central Nebraska to the Texas panhandle—an area that sees a concentration of twisters—FAA members responded with an audible gasp.
Here's a video the team got that year, complete with onboard video of a tornado:
In an interview with NPR last year, Argrow lamented the slow progress:
"It's often that technology gets ahead of policy, particularly in this country, and this is an instance where that essentially has happened," he says. "Some of the technology—the capability, anyway—has gotten ahead of what the current air traffic system is able to accommodate directly."
Engineering students at Oklahoma State University have also designed a drone specifically for storm chasing, in anticipation of the FAA's relaxed rules regarding drone operation in commercial airspace beginning in 2015.
But in sharp contrast to the push for safer storm monitoring, thrill-seekers masquerading as storm chasers drove directly into one of Sunday night's tornadoes and then immediately posted the video to Facebook. The Arkansas-based group calls themselves "Hail's Angels."
This is what happened after they emerged on the other side:
Their immediately previous tweet was nearly a year ago, a tribute to the three (much more experienced) storm chasers who died last May in Oklahoma.
When it comes to storm chasing, there's a clear difference between science and stupidity.