After weeks of being stuck in neutral, tornado season is about to kick into high gear.
The National Weather Service is saying "strong tornadoes are possible" during a "significant multi-day severe event" set to begin this weekend from Texas to Tennessee.
According to the Storm Prediction Center, the tornado forecasting branch of the National Weather Service, a lingering low-pressure center will emerge from the southern Rockies on Saturday and quickly grow in strength. By Saturday evening, the storm will tap into moisture from the Gulf of Mexico, kicking off a round of supercell thunderstorms with the potential to spawn a swath of tornadoes. The threat will move slightly east on Sunday, and then into the Deep South on Monday. The pattern is being held in place by an intense high-pressure block thousands of miles away in northeast Canada. In addition to possible tornadoes, large hail and heavy rains will be in the forecast for several days.​
Tornado strength is measured by the Enhanced Fujita scale, with 5 being the most severe.
When you match the forecasted pattern for Sunday—the height of this weekend's anticipated outbreak—with a comprehensive database of the last 30 years of weather history, a few of the most infamous tornado outbreaks in decades appear.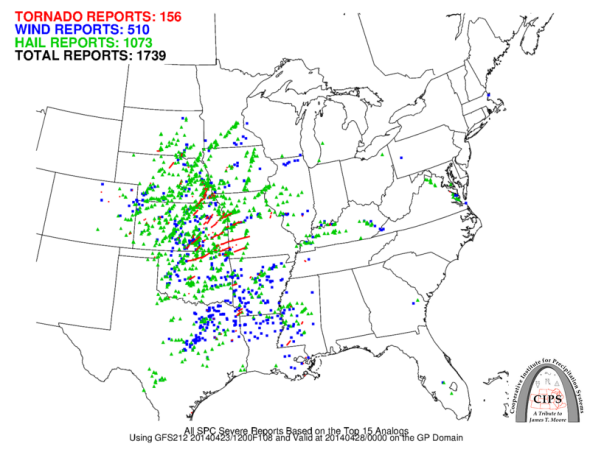 Here are the top three matches:
May 9, 1995: More than 40 tornadoes (including four F3's) caused millions of dollars of damage, mostly in Illinois.
April 24, 2010: A multiday outbreak spawns 88 tornadoes across 12 states, including the devastating Yazoo City, Miss., EF4 tornado, which killed 10 and injured hundreds. That tornado tracked continuously for nearly 150 miles and was nearly two miles wide at its peak.
April 26, 1991: A swath of tornadoes from Texas to Iowa caused 21 deaths and a quarter of a billion dollars in damage. One of the most infamous tornadoes in history—an F5 in Andover, Kansas—occurred during this outbreak.
This tornado was captured on film by a television journalist who attempted to outrun it, helping to spawn the modern era of storm chasing. His breathtaking footage shows him joining a young family under an interstate overpass as the tornado moves nearly directly overhead.
If you watch the video, you might get the impression that hiding under an overpass is a smart way to dodge a tornado. You would be wrong. The video's popularity has so endured that the National Weather Service still has to warn people about the incredible danger of taking shelter under a highway overpass during tornado warnings. During a 1999 tornado in Moore, Okla., there are reports of people actually leaving their homes to seek shelter under an overpass, inspired by this video. From a 1999 National Weather Service presentation:
One particularly frightening story was told by Brian Hansen, who works for the City of Moore Emergency Management. Brian was attempting to get to the Moore Emergency Management Operations Center to assist that night and was caught in the traffic jam at the Shields Boulevard overpass. He attempted to fight his way through, but eventually became trapped 3 car lengths from the front, directly under the overpass. The traffic jam eventually grew to a quarter-mile long "parking lot" by the time the tornado crossed the highway. Brian said the vehicles were packed so tightly under the bridge, he could not even open the door to get out of his truck. He eventually chose to ride out the storm on the floor of his truck. 
It was the famous 1991 Andover tornado that helped solidify my interest in meteorology, striking just 100 miles from my home when I was in fourth grade. April 26, 1991 is one of the dates you memorize as a meteorologist. It took 16 years for another tornado of its intensity to strike anywhere in the United States.
The forecast for a potentially large scale tornado outbreak comes just days after 2014 clinched the record for the "least active tornado year, to date, in at least the past 60 years," according to the National Weather Service. Just 20 tornadoes of EF1 strength or higher have formed through April 21, according to a graphic posted by the Storm Prediction Center. In a more typical year, there'd have been more than seven times that many by now.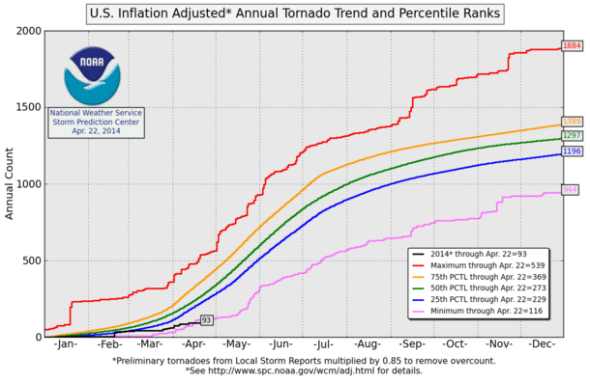 The United States is also in the midst of an exceptional drought of strong tornadoes: It's been more than 150 days since the last EF3 tornado, the fourth longest streak since the early 1950s. In another strange quirk, normally placid California has had more tornadoes so far this year—10—than historically tornado-prone Kansas, Oklahoma, and Alabama combined—just eight between the three states.
The tornado drought has puzzled scientists, coming just three years after one of the most active tornado seasons on record, which had a whopping 465 EF1 or greater tornadoes by this time. Best guess? It's just been too cold.
In a testament to forecasters' improving abilities on the shorter-term, at least this weekend's forecast comes with ample warning. Severe thunderstorm outlooks had "little to no skill" until the mid-1990s. Warning lead time for individual tornadoes has doubled over the same time period and is now around 15 minutes. In 2014, it's incredible that we're talking about possible tornadoes the better part of a week away. The biggest change? Better computers and Doppler radar.