After a spring-like weekend for many winter-weary Easterners, cold and snow are set to make a comeback this week. New data show a huge storm—a clash of cold air from the Arctic and moisture drawn north from the Caribbean—will give at least a glancing blow to millions from D.C. to New England, with a worst-case scenario of an epic blizzard still not off the table.

Just how big the storm's impact will be is still open to question, given a more-complex-than-usual forecast.
Its effects in the United States may be primarily felt by those near the coast. A NOAA forecast shows ocean waves could exceed 30 feet at the height of the storm, and coastal flooding on north-facing beaches of Cape Cod could be a few feet above normal, though the timing of the storm between the full and new moon should alleviate major flooding concerns.
What's still unclear is where exactly the storm is headed.
Take a look at how spread out even the latest models are regarding the storm's possible center:
Some of those solutions would produce almost no impact at all for the East–welcome, after this long and grueling winter. Many, though, would produce one of the strongest winter storms in recent memory. For all the uncertainty, the Boston National Weather Service office said the storm "poses a serious threat to southern New England"
Over the last 24 hours, most models have trended a bit farther offshore, which would lessen the storm's fury on land. But one of the most historically accurate models suggests that we could see a rare dance known as the "Fujiwhara effect." As the storm comes together off New England, this effect could enhance snowfall and wind speeds on shore. In a nutshell, two competing low-pressure centers would later merge, nudging the nor'easter closer to land. This effect is more typically seen in Pacific typhoons, as explained by the Hong Kong Observatory.
Regardless of its track through the United States, confidence is growing that the storm could wind up being one of Atlantic Canada's strongest in 50 years, if not all time. An overnight weather model run by Environment Canada—though likely an outlier—showed a forecast pressure as low as 948 mb near Halifax, Nova Scotia, on Wednesday. That would challenge the lowest all-time pressure reading there taken during one of the most violent storms in Canada's history in December 1964. Sunday afternoon's GFS model forecasted a low pressure center 4.7 standard deviations outside the 30-year average—a one-in-a-million type storm.
Here's the source of remaining uncertainty: The ingredients are just making their way onto land, one part from the Gulf of Alaska, one part from the icy shore of the Arctic Ocean—areas not typically known for excellent weather data collection infrastructure.
Over the next 48 hours, these two bits of proto-storm will merge over the Eastern United States, blending polar air with enough jet stream energy to initiate "explosive cyclogenesis." That process—also known as a "bomb"—is now certain to occur.
Only the most intense storms are able to deepen at a rate exceeding 24 millibars in 24 hours, the criteria for a "bomb." From the National Weather Service in Boston:
All models show bombogenesis Tuesday night with 12-hour pressure falls around 30 millibars and 18-hour pressure falls near 40 millibars which is quite remarkable. Models have sub-970 millibar low crossing our latitude Wednesday morning and sub-960 millibar approaching Nova Scotia.
Jim Cisco, the same National Weather Service forecaster who called the storm a "nor'easter bomb" on Friday, has now referred to the burgeoning menace as a "supercyclone." Cisco also referred to the possibility of a Fujiwhara effect in his discussion Saturday night. (He's the one who coined the "Frankenstorm" moniker for Hurricane Sandy.)
This week's storm is expected to produce a sharp northwest to southeast snow gradient, which makes the track forecast even more important. Cities far to the northwest of the storm's center, like New York City, could see their forecast fluctuate the most over the coming day or so.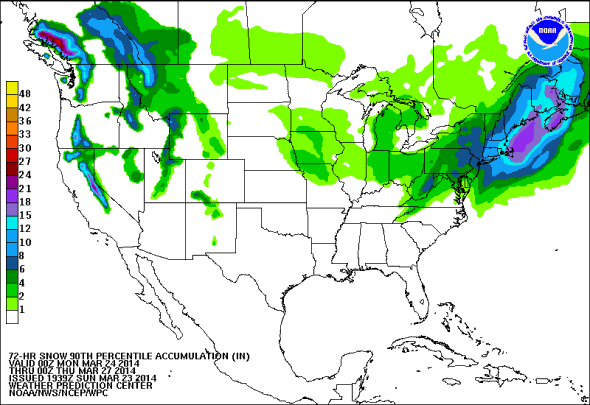 The most likely scenario now is a glancing blow of rain/snow mix in Washington, D.C., three to six inches of snow for New York City, with the storm's most brutal impacts reserved for coastal Massachusetts and Nova Scotia. There's a 50/50 chance of more than a foot of snow and tropical-storm-like winds for Cape Cod and Nantucket, which should take the brunt of the storm in the United States. For Halifax, it's looking ugly: that city could receive over two feet of snow (that's 60 centimeters, for you fans of the metric system) and a direct hit with winds exceeding hurricane force.
There's still a chance that the coming storm—whose effects should peak from Tuesday night into Wednesday—could still produce a legendary blizzard in New England as well. A reasonable worst-case scenario for snowfall (with 10 percent likelihood) has eight inches in New York City and 14 in Boston. The National Weather Service office in Boston warned on Sunday that one weather model—the ECMWF—still indicated a monster: "while an extreme solution and a lower probability, [the ECMWF solution] would be an epic snowstorm/blizzard for eastern New England." A midday Sunday update of the ECMWF model kept that unlikely scenario on the table.
While the storm forecast is still up in the air, the cold weather that precedes it is not.
However, this story has a happy ending. Here's the best news I've delivered in quite some time: No matter if the snow is measured in inches or feet, temperatures will experience a quick warm up starting on Friday that should linger well into next week.