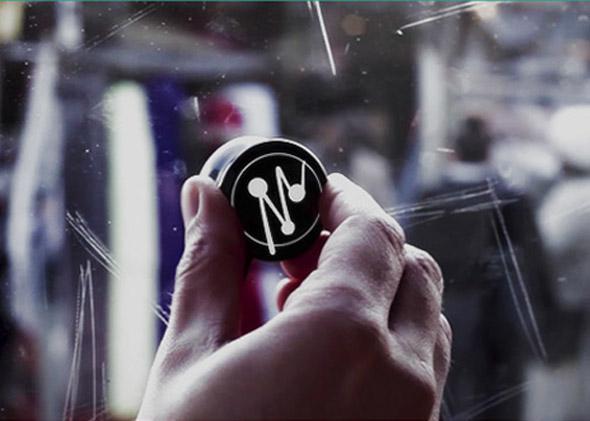 It's great that so many beverage companies are trying to seem more deluxe, environmentally conscious, retro, or all three, because it means that there are more glass bottles around in different shapes and sizes. And more glass bottles means more bottle organs. Which means more found music.
But if you want to take that to another level (and hoard fewer bottles), you can turn basically anything into an electronic instrument using Mogees.
A Mogees can be stuck to or placed on different surfaces. It uses a contact microphone and a circuit board combined with an iOS or Android app to turn vibrations (from a tap or hit) into sounds. The Mogees plugs into a phone's headphone jack and draws all the power it needs from there. The app allows users to control the sound and enter different modes, in which they can improvise freely or work off of presets.
The materials in an object plus its surface texture and weight all contribute to the types of vibrations, and by extension sounds, that a Mogees produces. There's no set limit to where you can put the device, and it can even interact with real-time action if it's placed on a surface that is touched or tapped intermittently over the course of the action, like a juggler who bounces balls off the ground as part of his act.

Mogees' Kickstarter runs through to March 19 and is at almost 70,000 pounds (about $115,000). The campaign's original goal was 50,000 pounds, but it now has a stretch goal of 75,000 pounds to make "Junior Mogees" that are designed for pre-schoolers and incorporate presets for things like children's songs or nursery rhymes. Creator Bruno Zamborlin told the Verge that the first iOS units should ship in August. Six days left to get in on the infinite music.

---