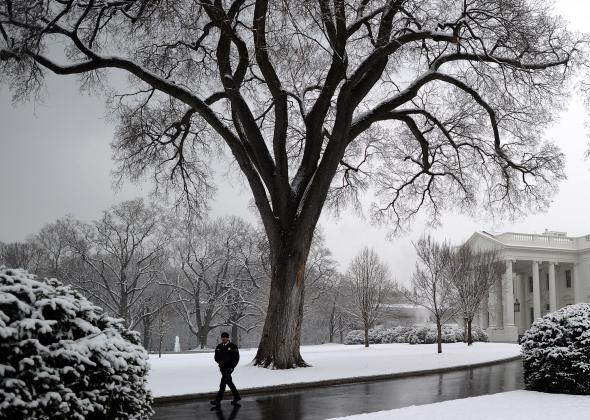 In a winter of extreme weather, here's a storm that's getting coast-to-coast notoriety.
The same storm that brought the heaviest rains to drought-stricken southern California in more than three years is now set to wallop the east with another huge snowstorm beginning Sunday night.
The rains were welcome, of course, but many people around southern California also got more than they bargained for: A viral video showed a massive wave crashing through a Santa Barbara restaurant on Saturday morning.
From the Los Angeles Times:
For some, it was a harrowing day—for two drivers who were rescued after getting trapped by a rock slide near Malibu; for two men rescued from a downed tree in the suddenly roiling Los Angeles River; for hundreds who lost electricity when a power pole toppled over near a Long Beach police station.
Still, this week's rains did little to blunt the state's gaping water deficits. As of Sunday, rains had mostly ended, and statewide snowpack had rebounded from 89 percent below normal before the storms to a much more thirst-quenching 72 percent below normal. In the midst of the chaos, on Saturday, California Gov. Jerry Brown signed into law a $687 million drought-relief package aimed at reducing the impacts of the worst drought the country's top agricultural state has seen in half a millennium.
Meanwhile, winter just refuses to quit for the east.
After causing a terrible pileup on a Denver highway on Saturday, snow and ice were pushing through the Midwest on Sunday. By Monday, what started as a photogenic swirl of clouds over the Pacific Ocean will bring yet another Arctic blast of snow and freezing cold to the East Coast.
The latest blast of winter weather will send temperature plummeting once again for much of the east, though heavy snow is expected only south of New Jersey. Much of the east will face high temperatures about 20 degrees below normal through Thursday­—weather more befitting January than early March. Lows will be in the single digits from Philadelphia to New York City to Boston.
However, the winter weather bull's-eye this time around looks to be in Washington, D.C. The National Weather Service said 6 to 8 inches of snow could fall by Monday afternoon in the nation's capital. (That's down from an earlier prediction of 10 to 14 inches.) If that impressive forecast comes to pass, Monday's storm could wind up being Washington, D.C.'s biggest single-day March snowstorm in history.
This storm will almost assuredly put D.C. over 20 inches of snow for the season. While folks in Chicago may laugh at such a measly amount, such snowy winters are becoming increasingly uncommon in the mid-Atlantic as the climate warms. Only three other Washington winters in the last 25 years have had this much snow. In contrast, 20 inches or more snow happened 38 times in the 20th century in D.C., more than twice as often as in recent years.
According to the Washington Post's Capital Weather Gang, the snowy blast this year ended a record streak of 1,091 days without a 2-inch snowstorm in D.C. When all is said and done, this winter will rack up more snow than the last three winters combined.
Meanwhile, many other cities have already clinched one of their most brutal winters on record. Indianapolis has already clinched its snowiest winter in history, with more than 50 inches so far. As of March 1, Chicago had endured its third coldest and third snowiest winter on record. Temperatures aren't expected to rise above freezing there until Friday at the earliest. New York City has had more snow this year than Anchorage.
And, don't look now, but another cold air outbreak is starting to show up in longer-range weather models for March 9-13. You can direct hate mail here.
---