In a new U.N. report released on Monday morning (Japan time) scientists come to a stark conclusion: Unless the world changes course immediately and dramatically, the fundamental systems that support human civilization are at risk.
The Intergovernmental Panel on Climate Change's new report—which is seven years in the making—draws on "widespread" evidence of "substantial" climate change impacts "on all continents and across the oceans." For the first time, the IPCC has scientifically linked the changing climate with the destabilization of nation states. It is also increasingly confident of serious effects on food crops, water supplies, and human health, plus global species loss.
This is a follow-up to a similarly major report issued last September, which concluded the scientific evidence for climate change was "unequivocal," with human activity "extremely likely" to be the dominant cause. If September's report answered the question of "what's happening to the climate and why?", this one tackled the more practical "So, what does it mean for us?"
Unless we change our path, the simple answer is: Climate change could put our future into question.
What makes the new IPCC statement so striking is its process. The entire 44 page summary was agreed to line-by-line by scientists and political representatives from more than 110 governments during a marathon session over the last week. Simply because of the way it was constructed, this report instantly becomes the most authoritative ever written on the subject of climate change impacts and the long-term consequences of current (in)action. Fast-growing China must agree with tiny Maldives, and the relatively rich United States must align with poor governments like Tanzania.
That process also makes the report's conclusions necessarily conservative. The document therefore touches only on the effects of climate change that have widespread consensus. Turns out, that list is much longer than was agreed upon in the previous report, released in 2007. For better or worse, actions we take now "affect the risks of climate change throughout the 21st century."
Even if we take bold action—what the report characterizes as "high" adaptation—there's medium or higher confidence that virtually ever corner of the globe will suffer widespread impacts by the end of the century. According to the report's risk calculus, Europe fares the best. Virtually every other corner of the globe, including North America, will face "very high" risk of a breakdown in at least one critical component of the climate system—the availability of fresh water, or crop productivity, or coastal flooding due to sea level rise, to name three examples—by 2100, even with ambitious action taken. Without bold action, the risks increase even further.
Here are some of the report's most striking conclusions:
"Negative impacts of climate change on crop yields have been more common than positive impacts (high confidence)"
"Throughout the 21st century, climate change is expected to lead to increases in ill-health in many regions and especially in developing countries with low income, as compared to a baseline without climate change (high confidence)"
"… the combination of high temperature and humidity compromising normal human activities, including growing food or working outdoors in some areas for parts of the year (high confidence)"
"Climate change can indirectly increase risks of violent conflicts in the form of civil war and inter-group violence by amplifying well-documented drivers of these conflicts such as poverty and economic shocks (medium confidence)"
"Throughout the 21st century, climate-change impacts are projected to slow down economic growth, make poverty reduction more difficult, further erode food security, and prolong existing and create new poverty traps, the latter particularly in urban areas and emerging hotspots of hunger (medium confidence)."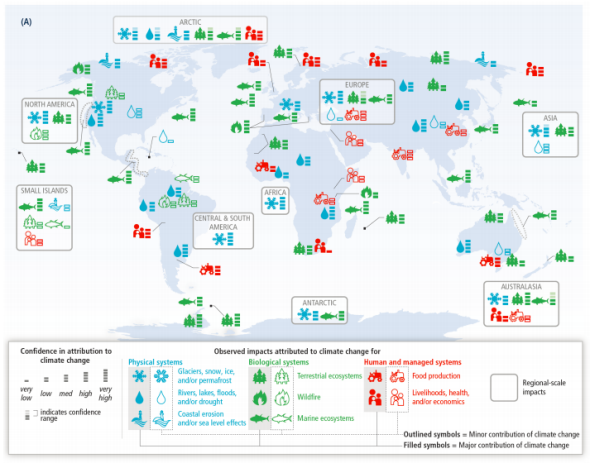 What this report makes clear is that climate change isn't a far-off risk. It's happening today, and getting worse. Something is going to have to trigger a global wake-up call, because apparently, we're incapable of taking action on problems that aren't immediately obvious.
The new report makes a consensus statement that coral reefs and Arctic sea ice—the proverbial canaries in a coal mine—have already experienced irreversible changes. The report makes clear that the risk of other destabilizing consequences increases the more carbon we emit.
And yet humans continue to expand our production and use of fossil fuels. New data shows we managed to emit more carbon in 2013 than in any previous year—emissions even increased in the United States. The new IPCC report will serve as one of the primary scientific guides for world governments as they prepare to negotiate the 2015 U.N. climate treaty in Paris. ​During this week's negotiations, as reported by the New York Times​, language supporting adaptation support for poor countries to the tune of $100 billion per year was dropped at the last minute, upon insistence from several rich countries, including the United States.
It's difficult for me, as both a scientist and as a human, to emotionally process continued inaction on climate change. My characterization of this report may make it seem like the problem is hopeless. It's not. There's still time to stave off most of the worst effects if we all work together and realize that every single person's actions, no matter how small, make a difference. But it will take massive action.
It was the IPCC's first report last September that motivated me to give up flying for good. Just having the ability to take that step now feels like an extreme luxury, considering much greater impacts on people around the world—like farmers dependent on rainfall—with much less ability to adapt. The authors of this report rightly emphasize the world's poorest will face the biggest consequences of climate change. Maybe it's just seeing it all in one place, but I'm more convinced than ever that climate change is the single most important issue facing humanity today.
Still, there's evidence that transformative change can come quickly and at little cost. As Grist's David Roberts so eloquently said: "We are stuck between the impossible and the unthinkable. … For the rest of your life, your job is to make the impossible possible."