The idea of "binge-watching" television shows has grown from a pastime for the Internet-savvy minority to a full-blown cultural phenomenon. More than three-quarters of online video watchers surveyed in a recent Slate/SurveyMonkey poll said they have binge-watched a TV show With growing fanaticism surrounding serial dramas like Breaking Bad, Game of Thrones, Scandal, Homeland, and Boardwalk Empire has been compounded by how readily stream-able TV shows are.
And it's not limited to network shows anymore: Netflix and Amazon have jumped into the mix with original programming like Orange Is the New Black and Alpha House. Even President Obama has admitted to being a fan of the Netflix show House of Cards, whose second season premieres on Valentine's Day. At a meeting in December, he told Netflix CEO Reed Hastings, "I wish things were that ruthlessly efficient."
How has the availability of streaming services changed the way we watch TV shows today? The poll found that people think of binge-watching as more of an engaging experience than other types of media consumption. (Information on respondents is available here. More information about SurveyMonkey Audience is here.)
Respondents also said they prefer the endurance test that binge-watching offers—most preferred watching hour-long dramas more than shorter programs. Binge-watchers are also discerning viewers. High production quality was the reason most people—64 percent of respondents—would binge-watch a show. This makes sense because, as Alex Soojung-Kim Pang argues, binge-watching lends itself to more in-depth discussions of story arcs and character development.
People were more split on how much attention they paid when bingeing on a show. Fully 57 percent said they felt "somewhat" or "much more focused" when binge-watching, while 31 percent said they felt about the same. And 68 percent of respondents said they focused more when binge-watching versus watching a YouTube video.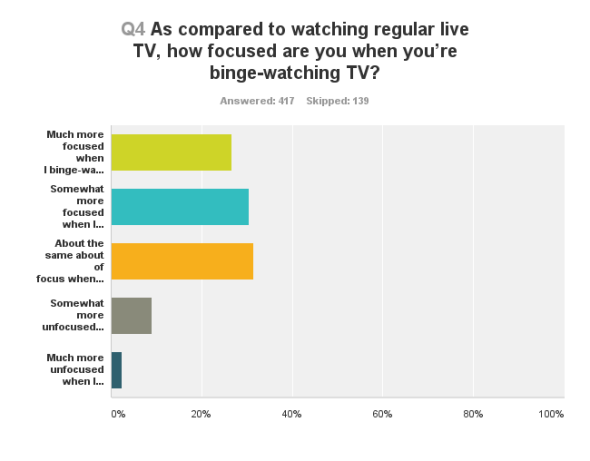 This is a TV-centric phenomenon. Fifty-seven percent respondents said they do binge on movies or music, but 51 percent said they don't binge on other forms of media at all. Viewers also said they found binge-watching to be a more engaging experience than other video-watching methods—58 percent pay more attention to shows when they're binge-watching, while 32 percent say they pay about the same amount of attention.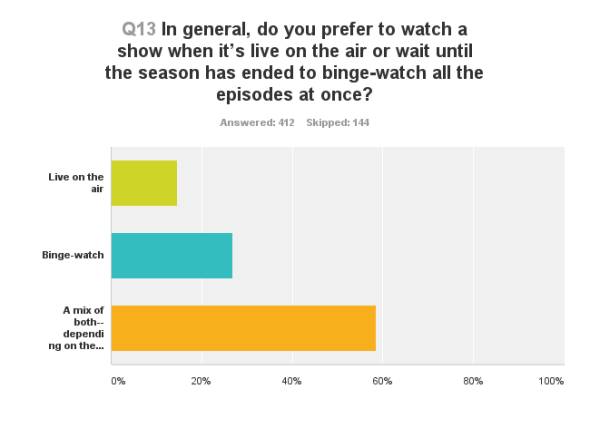 And the audience isn't just college students watching Keeping up With the Kardashians in their dorm rooms—most viewers said they tend to binge-watch shows in their living rooms, on an actual television set (for college students with neither living rooms nor televisions, though, there's always the laptop-in-bed dynamic.)
The most popular binge-watched show was Breaking Bad, followed by Orange Is the New Black, Dexter, The Walking Dead, and Game of Thrones. That's good news for Netflix, AMC, and HBO, which are all coming back with new seasons of their signature shows.
While binge-watching may be a boon to networks and streaming services, it's bad news for another industry: advertising. Most respondents said they enjoy having the ability to mute or fast-forward through commercials when binge-watching, as opposed to waiting them out when watching a show live.
Even though most respondents said they pay more attention while binge-watching, they also admitted to multitasking during a show: doing homework, knitting, checking Facebook, analyzing the cast's IMDB pages, breastfeeding, and generally putzing around the house.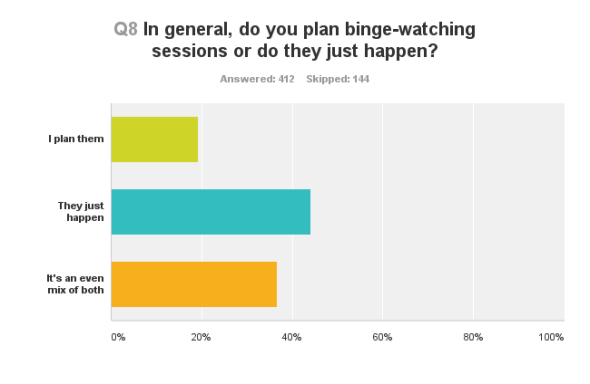 But is there any real difference between binge-watching a specific TV show and garden-variety channel surfing? Most respondents said yes. "Binge watching is intentional and planned," one viewer said. "Channel surfing is just boredom."
Respondents also viewed binge-watching as a more constructive activity than flipping through channels. "It's an event instead of an accident," one respondent said. "Binge-watching is an activity, where the other is a waste of time," said another. But while we may find binge-watching to be a more immersive, stimulating experience, the utilitarian qualities are basically the same. "The difference is in the intent," one viewer commented, "but it's still 'watching lots of television.' "