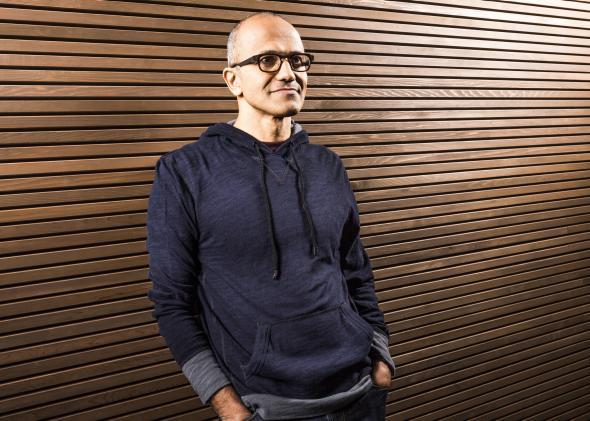 Microsoft on Tuesday named its new chief: Satya Nadella, a company stalwart who previously headed its Cloud and Enterprise group. Nadella becomes the company's third CEO, after Bill Gates and the retiring Steve Ballmer, who had led Microsoft for the past 13 years. Gates, meanwhile, will move from his position as board chair to a new role as "founder and technology advisor."
At first blush, the 46-year-old Nadella would appear to share in common with his predecessor a predilection for jargon, cliché, and gratuitous superlatives. In an impressively substance-free email to employees Tuesday, Nadella called it "a very humbling day for me" and "an incredible honor," and revealed that "like anyone else, a lot of what I do and how I think has been shaped by my family and my overall life experiences." Microsoft, he opined, is "the best company in the world," ""one of the greatest and most universally admired companies in the world," and "uniquely empowers people to 'do more.'" And, of course, "devices and services" play a prominent role in Nadella's welcome address.
So did he break Steve Ballmer's record for most buzzwords in a single document? Not quite, but it was close. Nor could he match his predecessor's knack for always using three words where one would suffice. 
Where Nadella's prose really breaks from the Ballmer tradition, however, is in sentence length and choice of punctuation. Whereas Ballmer has no problem piling dependent clause upon dependent clause until his sentences resemble Jenga towers, Nadella favors declaratives. "Today is a very humbling day for me," he writes. "It reminds me of my very first day at Microsoft, 22 years ago. Like you, I had a choice about where to come to work. I came here because I believed Microsoft was the best company in the world." Strunk and White would be proud.
It's on Twitter where Nadella's (relative) youthful exuberance shines brightest. The man hasn't tweeted in nearly four years, and his full Twitter oeuvre comprises just 25 updates. Yet he managed to pack into those bursts a staggering ratio of exclamation points to actual words. Behold the boundless enthusiasm: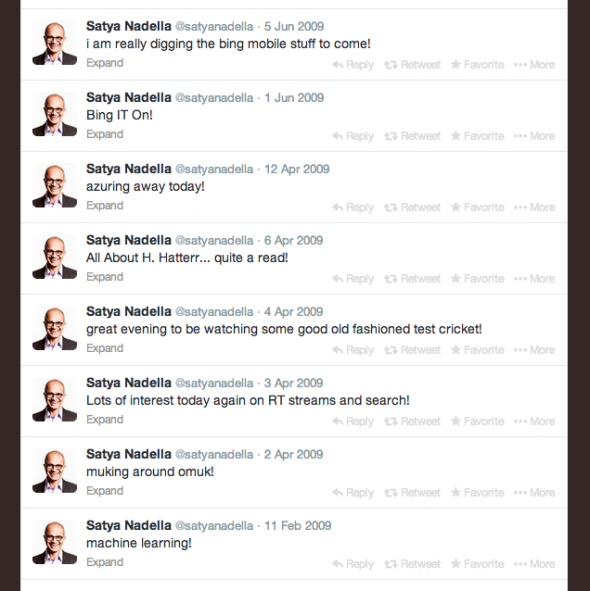 Perhaps my favorite is this one, in which the endearingly naive Nadella appears to genuinely believe that his company is on the verge of coming out with a viable social-media product:
Coders, meanwhile, can revel in the new executive's evident affinity for the latest markup language:
Not to mention his ability to refactor spaghetti!

For a short time on Tuesday morning, some tweeters were taken in by a fake Satya Nadella. It soon became clear, however, that @satyanadeiia was no substitute for the real deal.
Congratulations, Mr. Nadella, and may you find your tenure at the top of the world's most bloated tech company every bit as "empowering," "amazing," "incredible," "magical," and, um, "high-value" as you've always dreamed.

Previously in Slate:
---