Last week, Fitbit abruptly stopped selling its new fitness tracking wristband, the Fitbit Force, due to complaints that the device was causing skin rashes. This was a major setback not just for the company but—call me a narcissist—for me. I'd been putting the finishing touches on my review of several fitness tracking devices and had been poised to declare the Fitbit Force my winner. Instead, I've had to scramble and name a new champion, non-skin-rash-causing division.
But I'll get to that. First: What is a fitness tracker, and why would you want one?
These devices—variations on wristbands, watches, and pendants—promise to monitor your physical activity during the day and, in some cases, the night. They link up via Bluetooth to special apps on your phone or tablet. They keep a careful log of how many steps you've taken, how many flights of stairs you've climbed, how many calories you've burned. Should you slack off, they'll note the idle hours you've wickedly wasted.
Call me a narcissist, again (whatevs, you're still talking about me), but I've long been intrigued by self-quantification. Go ahead: Assess my IQ. Caliper my body fat. By all means, affix sensors to my toilet bowl and examine my excretions. It's my belief that self-knowledge is power.
Thus I was eager to test out an array of these fitness trackers. I began to venture out of my house wearing six different trackers on my person. Two clipped to my clothes. Four strapped to my wrist (including the Fitbit, which caused me no problems). With my forearm sheathed in a jangle of LED-equipped bracelets, I resembled some sort of cyberpunk Rainbow Loomer.
At first, as I'd expected, I liked tracking myself. It lent a pleasing empiricism to my existence. I learned that on an average day—strolling to the subway, the office, and the lunch spot—I might tally 8,000 steps, 16 flights of stairs, and 2,400 calories burned. (Though I'll note there were some discrepancies among the trackers' measurements, which diverged in their step counts by as much as 10 percent.) It suddenly felt like a modest physical accomplishment just to go about my daily business. Other good news: It turns out I often walk 4 or 5 miles in a day without really trying. And when I left the trackers on my wrist during a tennis game, I found that playing for a single hour racked up 6,000 steps—equivalent to 3 miles—which nicely contextualized the workout vis a vis my other, less strenuous daily activities.
On the flip side, I'd never realized quite how sedentary I become on winter weekends. Over the course of one snowy, couch-bound Saturday, I barely eked out 1,000 steps. I was like an obese panda lazing in a zoo habitat.
Perhaps the weirdest revelation involved my heart rate, which some trackers measure using built-in optical readers that can scan your wrist or fingertip. When I was out and about, my pulse rarely climbed above 80 beats per minute. When I'd been sitting on my couch for a while, it dipped to 49. That's verging into serial killer territory. (I swear, dear reader, I am capable of empathy. I'm just super calm.)
The thing was, after a couple of days with these trackers—having seen the patterns in my activity take shape—the numbers ceased to be interesting. In effect, I'd run a diagnostic on my physical behavior, taken a gander at the results, and decided I'm doing OK and don't need to keep measuring. Because I live in a city and don't have a car, I walk around plenty. I don't require a daily report confirming that fact. Who cares if I walked 11,000 steps today instead of 12,000, or if I climbed 15 flights of stairs instead of 16? In the end, I suppose I'm just not that into me.
Some of these trackers also promise to monitor your sleep habits, but I found this function wasn't always up to par. At one point, a tracker thought I'd nodded off for a half-hour at my desk in the Slate office. In fact, I was busily working. (Gifted as I am, I still can't do this job in my sleep.) Sometimes, an overnight report on my Zs would be wildly incorrect, insisting I'd slept for 13 hours when I knew it was only seven.
The future for fitness trackers is surely bright. Eventually, wearables will measure all manner of personal data—your blood composition, your temperature, your cholesterol, your mood—reliably and unobtrusively. They'll smoothly sync with your scale, your toothbrush, and your toilet. They'll offer actionable reports about your body. This is already close to happening. Soon, we'll all be Nicholas Felton.
But for now, as I see it, the only people who will truly benefit from these fitness trackers are the folks who want to motivate themselves to walk more. The trackers do a fabulous job of tallying your steps (within a reasonable margin of error), urging you to rack up higher daily counts and congratulating you when you hit your goals. One co-worker, who has kids and not much time to exercise, sets a target of 15,000 steps per day. If he sees he's coming up short as the day winds down, he'll force himself to take a constitutional around the block and make up the difference. It keeps him moving.
Yes, you could buy a simple, dedicated pedometer for $6. But it wouldn't record digital logs for you, letting you riffle through your data on your phone. It wouldn't send you an alert when you've hit your daily step goal. Perhaps most important, it wouldn't look nearly as cyborg-y on your wrist.
If you're willing to shell out for a fancy device, these are my recommendations, ordered from weakest to strongest. All of them will measure steps taken and calories burned, so the differentiating factors have to do with the form of the device itself, or ancillary capabilities, or the user-friendliness of its associated app.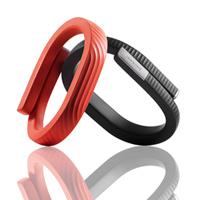 Jawbone UP24
The central flaw with the Jawbone is that you can't check your step count on the device itself. The wristband has no digital readout, which means you have to bring up the app on your phone if you want to find out how many steps you've taken. Especially annoying during a jog, when you might have ditched your phone at home.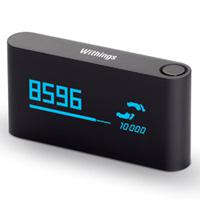 Withings Pulse
The Pulse, as its name suggests, lets you check your heart rate by pressing your index finger to an optical reader. I found the results I got were inconsistent, even from moment to moment. And the Pulse often failed to take a heart rate reading at all. Worse, the app provided by Withings is a total mess—hard to navigate, overly complex, visually confounding.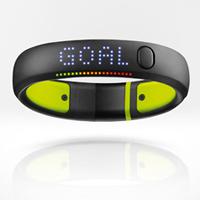 Nike FuelBand SE
Two problems with the FuelBand: 1) Nike insists on scoring your activity in terms of "Fuel" points and "Hours Won," which are proprietary metrics that nobody cares about. Just give us our step counts and leave it at that. 2) Nike also insists on branding the exterior of the wristband. The device I borrowed from the company was emblazoned with a lurid, orange Swoosh, which made me want to leave it at home when I was trying to look vaguely stylish in the evening. The other bands offer plain-black options and tend to call less attention to themselves, logowise. I should note I did like it when, on a day of particular sloth, the FuelBand encouraged me by scrolling "GO SETH GO" across my wrist three times.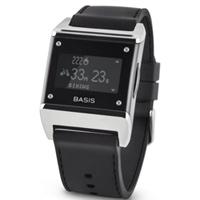 Basis
The Basis has the look of a beefy watch, which may not be what some folks are after, stylewise. It does an excellent job tracking steps and calories. Most intriguingly, it constantly measures your heart rate via an optical reader on its back, which takes your pulse through your wrist. I found it interesting to watch my heart beat change in different circumstances—after a workout, say, or during a date. With its big readout and its pulse-taking abilities, the Basis is the best conversation starter of the bunch.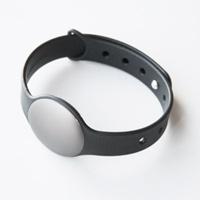 Misfit Shine
Two nice things about the Misfit: 1) You can clip it anywhere, using a built-in magnet pendant. 2) You don't need to charge it with a USB cable. It has a watch-style battery. Of course, you'll need to replace the battery at some point. But I prefer this to recharging the device every four to seven days, which is what most other fitness trackers require. The Shine was my favorite tracker that, so far, has not been shown to cause dermatological problems.

Fitbit Force
Prior to seeing the skin-rash news, the Fitbit was the easy winner for me. The wristband is stylish and sleek, with clear readouts of everything you want to know right there on your forearm. I liked its silent alarm: It can vibrate on your wrist to wake you up at an assigned hour, not bothering whoever might be next to you in bed. The Fitbit app is also beautifully designed and a joy to use—much more so than the apps for the other trackers. So, if you are willing to gamble that you're not prone to skin rashes (only 1.7 percent of Fitbit Force users had rash problems), maybe find yourself a used Force, go forth, and self-quantify. If, on the other hand, you are worried about a skin reaction, your options are these: 1) Get the previous Fitbit, the Flex, which has a limited readout display on its band but is otherwise a fine alternative. 2) Get the Misfit Shine, as mentioned above. 3) Wait. The Samsung Gear Fit will release in April and looks great, and Apple is rumored to be cooking up a smartwatch with fitness tracking capability. Patience, like fitness, is a virtue.