First extreme drought, then extreme rainfall. It seems California can't catch a break this winter.
President Obama is on his way to the state on Friday to propose a billion-dollar "climate resilience fund." He'll also take a tour of a farm near Fresno and sit in on a round table discussion with area leaders, including California Gov. Jerry Brown, who last month declared a statewide drought emergency.
From Politico:
The fund, according to the White House, would go to research on the projected impacts of climate change, help communities prepare for climate change's effects and fund "breakthrough technologies and resilient infrastructure."
It remains to be seen whether the administration can secure such a high figure from Congress for a climate fund not likely to attract widespread Republican backing.
Even that huge sum—if it makes it through Congress—might be too little too late. Lost revenue from the anticipated impossible farming conditions the drought will cause in 2014 is estimated to be more than $5 billion in California alone—the nation's most important agricultural state.
State officials are using increasingly dire language when describing the perilous water situation.
A week ago today, there was a shred of hope that a rare phenomenon might help to bust the drought.
Over the last few days, a rare event known as an "atmospheric river" did indeed funnel tropical moisture in a narrow stream from Hawaii to the West Coast, resulting in a deluge of rainfall and up to five feet of snow in the northern Sierras.
But unfortunately, even this week's rain was barely enough to make a dent in California's dire water shortage. According to the USDA Drought Monitor, 91.6 percent of the state remains burdened under "severe to exceptional" drought—a figure that actually expanded over the last week. Rainfall largely missed the hardest-hit drought area of central California, a rich agricultural region that includes the San Joaquin Valley between Los Angeles and San Francisco. That's the area the president will visit today.
From the Drought Monitor:
This was the first big storm of this year's wet season (Oct-Apr) for California, bringing 8-15 inches of precipitation from just north of San Francisco (Marin, Sonoma, Napa counties) and to the western slopes of the Sierra Nevada. Although the amounts were large, the long-term drought in California since the 2011-12 wet season has accumulated huge deficits and brought severe hydrological, agricultural, and ecological impacts.
So with this brief (1-week) glimmer of good news, the bad news is that California has a long, long way to go to get back to normal. To put this in historical perspective, all of the time periods from the last two months (Dec'13-Jan'14) through the last twelve months (Feb'13-Jan'14) ranked driest on record statewide for California since 1895. In addition, the last 24-months (Feb'12-Jan'14) was also the driest such 24-month period on record.
San Francisco, which recorded an all-time record low of 0.06 inches of rain during the month of January, has picked up 3.66 inches so far this month thanks to the atmospheric river—almost as much rainfall as the entire period from April 2013 to January 2014 combined (3.72 inches). However, most of that rainfall was in effect wasted and flowed into the ocean as runoff.
The really important numbers to watch are in the state's vast network of reservoirs and snowpack—the storage the state will need to get through the upcoming dry season this summer, in which huge wildfires could rage, feeding on bone-dry tinder.
Heavy snows in the Sierras this week boosted statewide snowpack from 11 percent of their April 1 average (as of Feb. 7) to 20 percent as of Friday.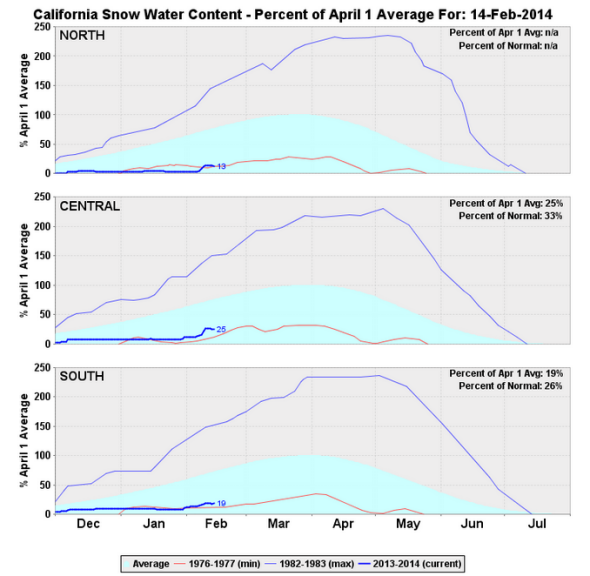 This week, Northern California's Lake Shasta, the state's largest reservoir and an important source of water for agriculture in the vast Central Valley, added only 2 percent to its total water storage and is still much below its historical average water level. This meager improvement comes despite getting hit square on with the recent atmospheric river event.
As it turns out, that's only a drop in the bucket. An incredible amount of rainfall—as much as three feet—would be needed to end accumulated rainfall deficits in the hardest hit areas farther south.
The atmospheric river returns again this weekend, but will likely end up a bit too far north to help things much in California.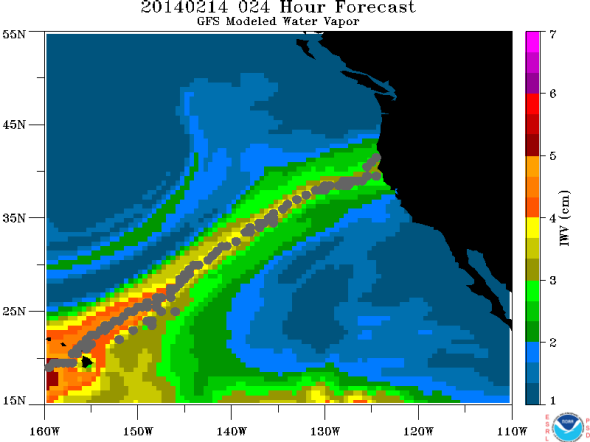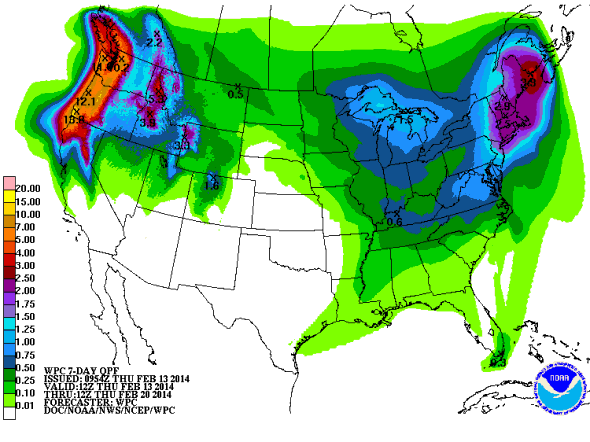 Meanwhile, NOAA's Hurricane Hunters are deploying a modified Gulfstream private jet to study the ongoing atmospheric river:
Looking out beyond this weekend's expected rainfall, there isn't much hope for more rain on the horizon. Updated seasonal climate model projections, released this week, show continued below average rainfall—both in the short run and long run—through at least the rest of California's rainy season: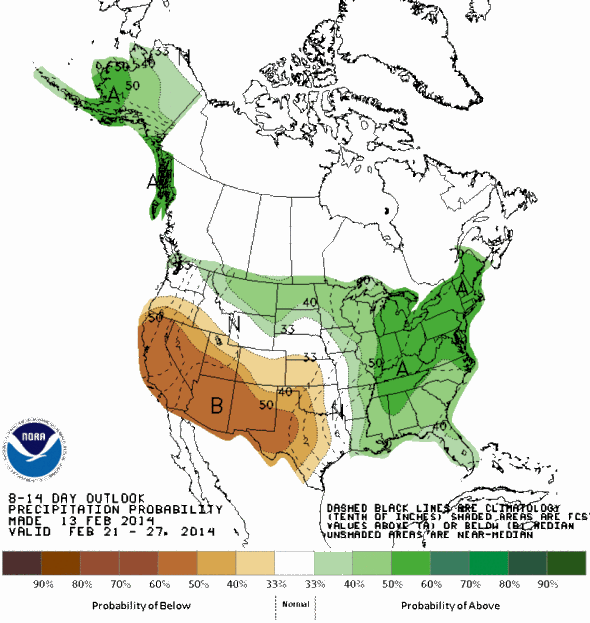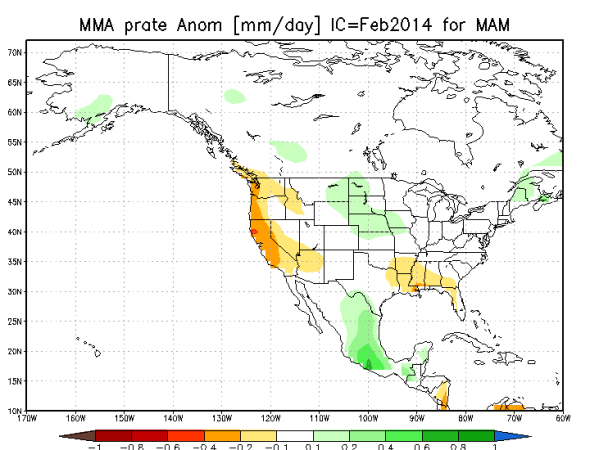 As California watches the battle of extreme weather play out on its home court, scientists are beginning to make ties to climate change. In general, the current multi-year drought fits the bill for what the state can expect in the years to come.
Unfortunately for California, that means the worst of this drought may still be yet to come.