Snow and ice are headed back South, and y'all know what that means: Get your Kindles charged, pack a suitcase, and start jockeying for sleeping bag space in the Piggly Wiggly. It's snowpocalypse time.
Atlanta's office of the National Weather Service issued a winter storm watch Sunday afternoon noting the "potential is increasing for a significant ice event."
Per CNN:
The coming storm will be the first test for a 32-member severe weather task force created in the wake of the fallout from last month's debacle when 2.6 inches of snow shutdown Atlanta's metropolitan area.
The city of Atlanta and Georgia say they're being proactive this time, unlike two weeks ago when the storm snuck up on Gov. Nathan Deal and Atlanta Mayor Kasim Reed, resulting in citizen inconvenience and outrage.
Given the forecast, local leaders could swing on the governing pendulum toward over-reaction and pre-emptively cancel things left and right on what is still an iffy and challenging forecast.
After the recent icy fiasco, Atlanta's mayor made a request to purchase additional road equipment to battle future winter weather. However, that equipment won't be in place yet for this week's storms. So, they'll have to get by with what they have.
What will be starkly different this time around is the sheer duration of the icy weather. Believe it or not, the late January storm lasted just the afternoon in Atlanta (though the ensuing chaos and sub-freezing temperatures lingered much, much, much longer). This time around, the city can expect snow, ice, and freezing rain off and on for up to 36 hours. Deciding what to do and when will be an extra challenge with lots of moving parts going into this particular forecast.
By the looks of the latest weather models, there are not one but two winter storms expected to pass through the Deep South this week. Each storm is on par, meteorologically speaking, with the one that created legendary traffic chaos in Atlanta late last month.
The culprit this time around will be a layer of relatively warmer, wetter air that will nose its way north above a much chillier subfreezing later of Arctic cold near the surface. As rain falls, the ground should be cold enough to cause the drops to freeze on contact, creating a thin veneer of ice that will coat roads and bridges (and basically everything else). A few degrees warmer than currently forecast, and Atlanta will be left with just a plain ol' cold rainstorm.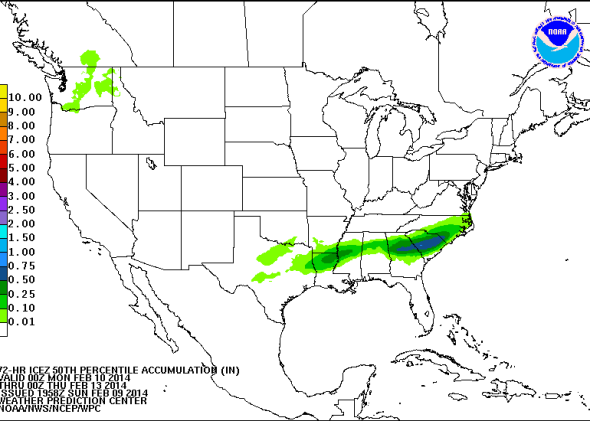 That setup will remain in place for nearly the entire first half of this week, with the transition zone between snow and ice flirting right around Atlanta. The first round will be mostly snow from late Monday into Tuesday. The knockout blow of the 1-2 punch could start late Tuesday and remain most of the day Wednesday, potentially bringing a thick coating of ice.
When the last flakes fly on Wednesday night, as much as four or five inches (or a half-inch or so of ice, or both) could have fallen over across a vast swath from Little Rock to Atlanta to much of the Carolinas. A half-inch of ice is about the same amount that knocked out power to more than 800,000 customers late last week in the Philadelphia area.