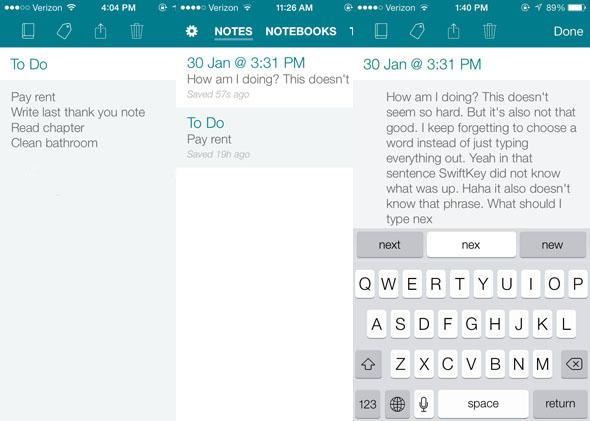 SwiftKey is predictive keyboard software that has been popular on Android for more than three years. It hasn't been able to make the leap to iOS, though, because Apple hasn't opened its mobile operating system to custom keyboards.
But that may change. The U.K.-based SwiftKey began making inroads last year, with a standalone healthcare app that uses the swiftkey keyboard to make typing medical jargon quicker. And now there's a SwiftKey notetaking app for iOS  so regular users can see what SwiftKey thinks they're going to type next.

The keyboard looks like a normal iOS keyboard except for the bar across the top where suggested words pop up. If you see the word you want next or are in the process of typing, you can just tap it and see what SwiftKey recommends after that. Sometimes you can get a string going where SwiftKey knows what you're trying to say and keeps suggesting the right words to add next. But sometimes things break down and it's clear that SwiftKey is totally lost. As you get used to having the feature available, though, you start moving seamlessly between regular typing and word selection.
There's a big issue, though: practice. SwiftKey could be a helpful tool for some users, but when you're only using it in one app and have to use a normal keyboard in the rest of iOS, it's hard to mentally transition or achieve top speeds when you are in the SwiftKey app. And one of SwiftKey's major Android features, Flow, is missing from the iOS app. Flow lets you drag your finger over the keyboard until you reach the letter you want instead of having to pick your thumb up. SwiftKey's predictive algorithms help it tune out the letters you drag over on your way to the letter you want. SwiftKey's chief marketing officer told the Verge that the company wanted to keep things clean and simple to start, but that it would be open to adding Flow to the iOS app if users seem to want it.

Since it seems like Apple restricts custom keyboards for a reason (two possibilites are concern about malware or the desire to keep the iOS experience consistent across all users), SwiftKey's app is probably not going to change Apple's mind. So the question is how to establish in iOS longterm as an app. A competitor to SwiftKey, Fleksy, has an iOS app, but also released its API so other services can opt to include the keyboard in their apps. Fleksy is clearly hoping that demand for their service will motivate other apps to bring them in.
But SwiftKey is taking a different approach. One major draw for the app—besides the SwiftKey keyboard, of course—is Evernote integration. Once the app is linked to an Evernote account, the notes sync in. And from Evernote, users can direct existing notes to show up in the SwiftKey app by adding the tag "swiftkey." They also want to partner with other services to become a central service for mobile drafting. Users can do their writing on the keyboard in the SwiftKey app and then use SwiftKey's partnerships and integration so that the things they type show up wherever they need them. This seems like a complicated workaround, but if the keyboard develops wide enough appeal it could happen. Maybe.

---