The Washington Post's Andrea Peterson reports that traffic to Pornhub spiked on January 7 and 8, at the height of this week's polar vortex. How does the Washington Post know this? Because Pornhub reported it on its "Pornhub Insights" blog, and included the following handy chart: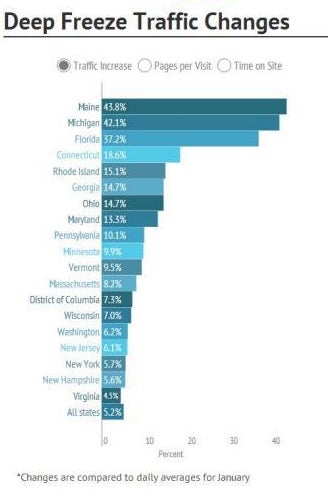 It's a cute little stat, but it's not exactly shocking that NSFW sites would get more traffic on days when people are forced to stay home from work.
What's fascinating to me is how Pornhub has succeeded in parlaying its own traffic stats into an ongoing orgy of mainstream publicity. A Google News search for "Pornhub" (which I'd highly recommend over an actual Google search for "Pornhub," especially if you're at work) turns up a steady stream of articles and blog posts about who's watching porn when, where, why, and for how long. A quick sampling:
Past "Pornhub Insights" press releases have analyzed the effects on porn viewership of everything from the government shutdown to the Stanley Cup Final to the death of Osama bin Laden. (Here are a bunch more if you're into that kind of thing.)
Not only do these stories give the site free publicity, I'd imagine they go some way toward legitimizing it in the minds of readers by making them feel less perverted for all the time they spend on there. For journalists, meanwhile, they offer a racy headline, easy page views, and the chance to toss off a few onanistic double-entendres. I, of course, would never stoop to such cheap tricks.
It would please me to say that I've single-handedly exposed this journalistic circle jerk, but in fact my Google News search revealed that I'm not the first to plumb this territory: Digiday's Jack Marshall had a post on the marketing genius of Pornhub Insights a couple of weeks ago. Anyway, now that I've discharged my duties as a media critic, here are some more fun stats provided to me by the helping hands on Pornhub's PR team. (I figured this post deserved a happy ending.)