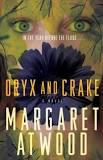 On Wednesday, Feb. 26, the Future Tense Book Club will meet in Washington, D.C., for the third time, to discuss Margaret Atwood's Oryx & Crake. Oryx & Crake, which was published in 2004, was the first book in a trilogy that was completed in 2013 with the publication of MaddAddam. (2010's The Year of the Flood is the second installment.) Oryx & Crake raises complicated, fascinating questions about such relevant topics as genetic engineering, the isolation of technology workers from the rest of the world, and the seedy side of the virtual world. Christine Rosen, a Future Tense fellow at New America and a senior editor at the New Atlantis, will lead the discussion.
The doors will open at 6 p.m., with the conversation starting at about 6:15.
The Future Tense Book Club is free, but limited seating is available, so RSVP now to futuretensedc@gmail.com with your name, email address, and any affiliation you'd like to mention. You can RSVP for yourself and a guest, and we'll send you the top-secret address if you get a ticket.
Future Tense is a partnership of Slate, New America, and Arizona State University.
---