An intense blizzard, appropriately named Hercules, has blanketed the Northeast. Antarctic ice locked in a Russian ship containing a team of scientists—en route, no less, to do climate research. Record low temperatures have been seen in parts of the United States, and in Winnipeg, Manitoba, temperatures on Dec. 31, 2013 were as cold as temperatures on … Mars.
So as is their seasonal wont, here come the climate skeptics. Exhibit A:
And Trump isn't the only one. A similar reaction came from Rep. John Fleming, a Louisiana Republican:
And RedState's Erick Erickson also piled on, blending global warming dismissal with religion:
Meanwhile, the front page of the Drudge Report listed a variety of cold weather news items under the heading, "Global Warming Intensifies."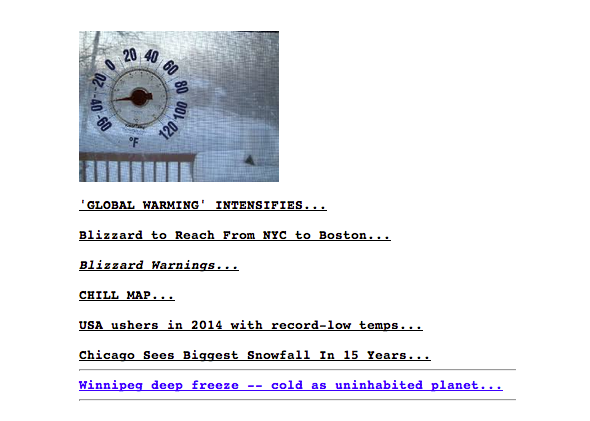 Rush Limbaugh also weighed in, noting that the Green Bay Packers may face the San Francisco 49ers in subzero temperatures at home this weekend:
I would love to see Barack Obama, Bill Clinton, and Hillary sitting outside on the 50 yard line of Green Bay the whole game, and then afterwards do a presentation for us all on global warming. Sit there the whole game outside.
And last but not least, Fox Business' Stuart Varney used the Antarctic ice story to claim that "we're looking at global cooling, forget this global warming."
All of this is all wrong in ways that have all been explained before. So just a few brief observations:
1. Statements about climate trends must be based on, er, trends. Not individual events or occurrences. Weather is not climate, and anecdotes are not statistics.
2. Global warming is actually expected to increase "heavy precipitation in winter storms," and for the Northern Hemisphere, there is evidence that these storms are already more frequent and intense, according to the draft U.S. National Climate Assessment.
3. Antarctica is a very cold place. But global warming is affecting it as predicted: Antarctica is losing ice overall, according to the latest report of the Intergovernmental Panel on Climate Change. However, sea ice is a different matter than land-based or glacial ice. Antarctic sea ice is increasing, and moreover, the reason for this may be climate change! (For more, read here.)
Finally, just one last thing: When it's winter on Earth, it's also summer on Earth … somewhere else. Thus, allow us to counter anecdotal evidence about cold weather with more anecdotal evidence: It's blazing hot in Australia, with temperatures in some regions set to possibly soar above 120 degrees Fahrenheit in the coming days.