The epic California drought isn't through breaking records. Worse yet, it's still intensifying. Don't taunt this thing—it's a mean one.
On Thursday, the National Drought Mitigation Center upgraded about 9 percent of the state to an "exceptional drought," the organization's most intense level of drought severity. It's the first time that any part of California has registered an exceptional drought in the 14-year history of the NDMC drought monitor.
Now, 14 years is an admittedly short period of time. But thanks to the magic of science (and tree rings), we can now safely say that California hasn't been this dry since around the time of Columbus, more than 500 years ago. What's more, much of the state's development over the last 150 years came during an abnormally wet era, which scientists say could come to a quick end with the help of human-induced climate change.
From Anthony Artusa, who authored today's "exceptional drought" report:
The Central Sierra Snow Lab near the Donner Summit reports 8 inches of snow on the ground, the lowest for this time in January since at least 1946. In the general vicinity of Monterey to Bakersfield, conditions warranted a 1-category [upgrade], from extreme to exceptional drought. A few of the impacts within the exceptional drought area include fallowing of land, wells running dry, municipalities considering drilling deeper wells, and little to no rangeland grasses for cattle to graze on, prompting significant livestock sell off.
That puts the current California drought on par with recent major droughts in Texas (2010-11) and the Midwest (2012), both of which were multibillion-dollar disasters.
This week, thanks to a temporary shift in the wind, rains have finally come to California. But they're barely measurable.
It's almost unbelievable, but today's 0.03 inches of rain just doubled San Francisco's 2014 total.
For perspective, 0.1 inches is the typical margin of error used in backyard rain gauges. It takes professional-grade equipment even to measure the amount of rain that fell this morning—and it's a near certainty that all of today's rain in San Francisco evaporated within a few hours.
Meanwhile, today's scant rainfall was enough for Sacramento to finally end the longest running rainless rainy season streak in its recorded history.  The city now has a new all-time record of 52 consecutive days without measurable rainy season rainfall, dating back to Dec. 7, 2013. The previous longest streak was Nov. 1 to Dec. 16, 1884. (Remember that one?)
Meanwhile, winter storm warnings are still in effect in the high Sierras until early Friday morning. A foot or two of snow will fall on the luckiest mountains. Heck, the ski slopes aren't even open yet in some places.
Many Californians would probably sacrifice their beloved cars to the rain gods at this point. A high-school group in Southern California, making clever use of weather balloons and jury-rigged smartphones, has captured stunning photos of the drought and the stark lack of mountain snowfall.
Normally in late January, there's roughly 15 feet of snow on the slopes of the Sierras, which will be turned into mountain streams and cities' water supplies in springtime. This year, there's only a foot and a half. When the snow began on Wednesday, statewide snowpack was only 10 percent of average for the date. On Thursday, post-snow, we're up to 12 percent. At this rate, we only need 44 more snowstorms of this week's size to get us back to normal. Given that this week's storm was the first significant one of the year, that's a tall order.
And it ain't gonna happen. California snowpack typically peaks in March or April. That leaves just 12 more weeks of potential snowstorm before the state enters its "dry season." (The distinction is almost laughable at this point.) With time running out, it's worth looking at the short-term climate models, which have decent skill as much as six months in advance, based on trends in slow moving ocean currents and large scale, semi-stable atmospheric teleconnection patterns.
Here's what the National Weather Service's best seasonal climate forecasting models project for rainfall anomalies between February and April, the peak months of California's rainy season: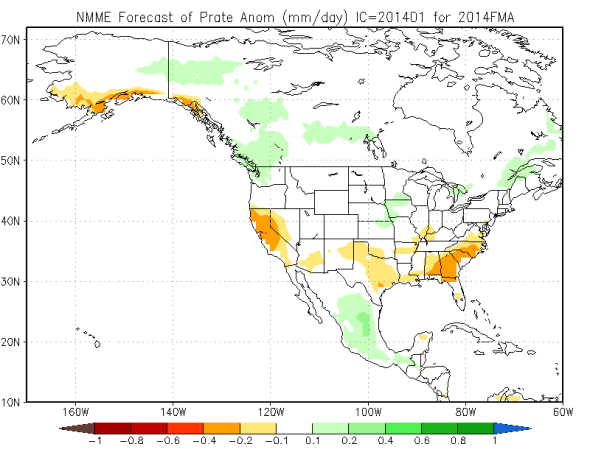 Continued dry. And that's it. That's really the last hope for rain in California until October. (The silver lining is, besides possibly pushing 2014 into the top spot for the warmest year globally in recorded history, a building El Nino may bring above normal rains to California in late 2014.)
So just when is the state going to run out of water?
Soon.
In fact, state officials now warn that within 60 to 120 days (roughly the end of the "rainy season"), many rural communities will be all dried up.
One particularly telling exchange, via the San Jose Mercury News:
"This is a statewide drought. This is a serious drought," Bill Croyle, director of the state Drought Task Force, said Thursday. "It's all hands on deck."
Croyle, an official with the state Department of Water Resources, made his remarks at a meeting of the Delta Stewardship Council, a state board of water experts.
Asked by board member Hank Nordhoff, a San Diego businessman, where the water will come from to bail out small systems, Croyle said he's working on it.
"You are going to get it wherever you can get it," he said.
Retorted Nordhoff: "That's a frightening reply."
That means, water trucks, impromptu desalinization, and draconian cuts in usage.
After looking through the data, what's clear to me is, this is only going to keep getting worse.
Future Tense is a partnership of Slate, New America, and Arizona State University.