This article was originally published on NationSwell.
Like many families across America, the Youngs had holiday traditions. On Christmas Eve, they ate gumbo at Grandma's house. On Christmas Day, they opened gifts near the tree. And on the morning after Christmas, they relaxed. That is, until 2001, when Jason Young, then a college sophomore, learned that he had just spent his last holiday in his family's Inglewood, Calif., home. On that Dec. 26, the Youngs' house, already in foreclosure, was taken from them for good. "It's a surreal experience to have someone knock on your door and ask you to leave immediately," he says. "We'd always struggled with money, but I had no idea we were going to be evicted."
The eviction may have ruined a favorite holiday for Young, but it taught him an important lesson about fiscal responsibility—one that has informed his career since. After his family lost their home, Young learned that his single mother had accumulated tens of thousands of dollars in credit-card debt in an attempt to save her home; she eventually filed for bankruptcy. "It became clear to me that the math didn't add up," he says. "I'd always been conscientious of money, but the experience made me want to make even better financial decisions. I never wanted to be in that situation again."
And he didn't want other low-income kids to find themselves in that situation either, which was one of the reasons he founded Mindblown Labs in 2011. The Oakland, Calif.-based company creates mobile educational games geared to improving financial literacy among underserved youth. But as Young taught students how to manage their money, he also recognized a need to help them learn how to make that money in the first place. This prompted him to co-found The Hidden Genius Project, a two-year training program designed to teach young black men science, technology, engineering, and math (STEM) skills through lectures and project-based workshops.
The decision to focus on STEM skills seemed obvious. As a resident of Oakland, Young had seen how the ripple effects of Silicon Valley's booming tech industry had gentrified the city's streets and encouraged more companies, such as Pandora and Ask.com, to build their headquarters there. He also saw how Oakland's young minorities hadn't, for the most part, benefited from the change. "It didn't make sense that black students were being left out of the tech industry, especially when it's considered a meritocracy," Young says. "I don't think you need to go to college to be a technologist. Many more people can participate in this field if they have the right training, the right mindset, and the right network."
The Hidden Genius Project tries to provide some of that training, offering classes on everything from mobile-app development to interface design and source control. The organization is one of several that have launched around the Bay Area over the last few years to teach STEM skills to black and Latino students. By training them in coding, Web development, and other programming skills, these groups hope to make minorities more competitive candidates for tech-industry jobs.
"We don't want these kids to be shut out of the tech boom, especially as it moves more and more into Oakland," says Susan Mernit, program director of Hack the Hood, a six-week program that trains low-income high school youth in skills such as Web development and search engine optimization. The organization had a 92 percent graduation rate after its pilot run and helped three of its students get into college; it plans to enroll another 40 students in summer 2014. "There aren't enough opportunities for them to learn these kinds of skills in their schools, and they don't have a family network that can really talk to them about this kind of career development," Mernit says. "These smaller, innovative programs are filling the gap that bigger institutions like school systems aren't able to address."
The achievement gap in STEM subjects doesn't only affect minority students. Study after study shows that students in the United States on the whole continue to fall behind their international peers. American 15-year-olds ranked 25th among 34 countries in math, according to a 2010 report by the Organization for Economic Cooperation and Development. In 2012, Harvard University published a study that found students in Latvia, Chile, and Brazil were making academic gains at three times the pace of U.S. students, whose improvements were "hardly remarkable by world standards." Meanwhile, a number of tech companies, such as Apple, have outsourced their tech jobs overseas, citing a larger and more proficient talent pool abroad in countries like China.
But the lack of blacks and Latinos in STEM careers represents an achievement gap within an achievement gap: They make up just under 10 percent of the country's overall tech work, and account for one in 14 employees in the Bay Area. Just 4 percent of black and Latino students study computer science at the higher education level. Consider that these two minorities are slated to account for 42 percent of the country's total population by 2040, and the discrepancy is "staggering," says Iris Gardner, the manager of events and outreach at Code2040, an internship program that places black and Latino students in tech internships.
Part of the problem is students' skills gap; the other part is Silicon Valley's network.
Network is a word you'll hear often from founders of similar nonprofits with the accompanying refrain: the need to expand Silicon Valley's predominantly white and Asian network of employees, who hold nearly 91 percent of the area's tech jobs. Code2040 was founded in part to improve these statistics by leveling the playing field. "It's very much still an old boys' club," Gardner says of Silicon Valley. "You have the same kinds of people hiring similar people to do the same kinds of jobs. We're here to disrupt that and get more people into that network."
In addition to partnering Code2040 participants with internships at tech companies, the organization makes a point of introducing students to black and Latino CEOs and venture capitalists. "If you don't see someone at the top who looks like you, or has a similar experience as you, it's hard to picture yourself in that same position," Gardner says. It's a sentiment echoed by Black Girls Code founder Kimberly Bryant, who has written about "feeling culturally isolated" during her pursuit of an engineering degree in college; she has since launched her organization to bring more black female students into lucrative tech careers. In its nearly three-year run, Black Girls Code has reached more than 2,000 girls in cities from San Francisco to New York with day-long classes on computer programming, coding, and mobile-app development.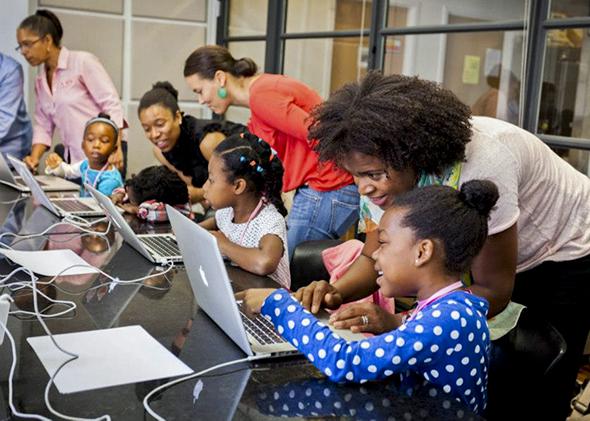 Charles Jones, a high school sophomore in Oakland, says he was interested in participating in Hack the Hood this summer after hearing his teacher talk about Web design in class. As part of the program this summer, the 16-year-old used the free website-builder Weebly.com. "One of the best parts was learning to use the Internet in new ways that I didn't know existed," he says. "Even just the ability to search things more specifically by using quotation marks was new." Jones says his dream job, which had been to become a doctor, has changed—he now wants to become an engineer or a scientist, something he hadn't thought of before Hack the Hood. And he's excited that the program may help other kids like him, kids who didn't know much about technology but now have a chance to learn more about the industry. "I think it's a really valuable resource to help educate people who aren't exposed to these opportunities," he says.
 "We need new minds to create new and relevant products for the people buying their products, which is increasingly coming from minority populations," Young says. "If we're not teaching minority students these skills and involving them in the process, that will be a huge societal cost to all of us."
With these programs in their infancies, it's difficult to determine their effectiveness just yet. But at the very least, their goals are clear. "We want to give students the skills to intern at a company like Facebook and then start their own company," Young says. "We want to set up a systematic solution to bring more black youth into these tech industries—and broaden the industry as a whole."