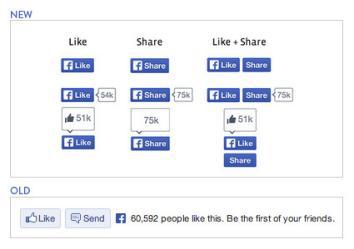 Facebook's iconic "like" button, one of the most indelible brand images of the new century, just got a makeover. Facebook announced the change Wednesday in a post on its developer blog.
The "like" button's less popular but more potent sibling, the "share" button, is getting the same treatment.
The new buttons are bluer and blockier than the old ones, and stand out more on the page. Facebook said it's already seeing an increase in sharing as it begins to roll out the new design across the Web. As The Verge's Ellis Hamburger points out, even Facebook didn't predict in 2010 just how ubiquitous its "like" button would become. It's now viewed more than 22 billion times a day across some 7.5 million websites. 
How does Facebook know that? Because, as with the old joke about TV in Soviet Russia: When you load a Web page on your browser, you don't just view the "like" button. The "like" button views you.
---