When it became clear that Samsung was set to unveil a smartwatch this week, expectations were modest. For decades kids and techies have dreamed of owning a modern-day version of the Dick Tracy watch, a mobile device that can tell time, make calls, and more importantly, make you look like a secret agent. But efforts up to now have been underwhelming. The so-called smartwatches that have hit the market so far—the Pebble, the Sony SmartWatch, the Fitbit Flex, Nike's Fuelband—are watches, all right, but "smart" is a stretch. The first two are little more than basic remote controls for your phone, while the others are useful for quantifying your workout but little else. Not one lets you bark top-secret orders at your wrist.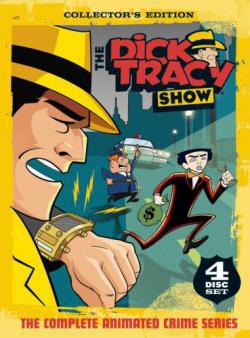 As a result, most mobile industry watchers had either written off the category—once seen as the next big thing after mobile phones—or resolved to wait for Apple's long-anticipated iWatch. But Wednesday's Samsung event in Berlin brought a big surprise: a smartwatch that might actually live up to its name. The Galaxy Gear is both a control center for your phone and a health-tracking device, but it's also much more. Think of it as Google Glass for your wrist, or—sure, why not?—the first device that can legitimately claim to be a 21st-century version of Dick Tracy's "2-way wrist radio."
The Galaxy Gear isn't a stand-alone device—it's meant to link up with Samsung's new Galaxy Note 3 smartphone, which it also launched Wednesday. But it does a lot of things that most other smartwatches don't. For starters it can make and receive calls. To answer an incoming call, just lift the watch to your ear and start talking. Thanks to an embedded microphone and speakers, Samsung claims you can keep talking even as you go back to whatever you were doing with your hands—without ever taking your phone out of your pocket. Sure, you can also talk on your phone hands-free with a Bluetooth headset, but that makes you look like a dork. Talking into your wrist arguably makes you look like a dork too, but if you squint a bit you might also look like a secret agent.
The Gear also takes pictures, with a wristband-mounted(!) camera that you activate by swiping downward on the watch's face, and can even shoot 10-second video clips. Samsung claims it will come with some Google Goggles-esque capabilities, like the ability to translate a foreign-language sign or pull up more information about a landmark or a product. The watch will also come with Samsung's "S Voice" feature, its version of Apple's Siri personal assistant, so you can dictate text messages or pull up your calendar using voice commands (although, perplexingly, you have to tap the watch first to trigger this). Or you can navigate the watch by touch, swiping from one feature to the next and tapping to make selections.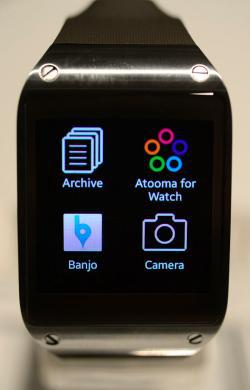 It comes with the usual suite of basic fitness-tracking apps, including a pedometer. Samsung says the watch will also run popular third-party apps, though it's not clear how usable they'll be on a screen that measures just 1.63 inches diagonally. Pundits had predicted that the watch might only have 10 hours of battery life, but Samsung says it will actually go upward of 25 hours on a charge. If that's true, it would be a pleasant surprise. And while VentureBeat's Christina Farr got her hands on a prototype a few days ago that she called "blocky" and "clunky," the real thing turned out to be a little sleeker, though still a far cry from Apple-level design standards. Samsung CEO J.K. Shin went so far as to predict that it would become "a new fashion icon around the world," which seems a bit much.
One serious limitation: The Galaxy Gear is designed to work only with other Samsung devices. For now, that means the new Samsung Galaxy Note 3 smartphone and Note 10.1 tablet, with the Galaxy S4 a possibility once it gets Android 4.3. And at $299, the watch won't come cheap when it begins shipping to U.S. customers in October.
Judged on features and technical specifications alone, the Galaxy Gear appears to be by far the most advanced smartwatch to hit the market, and may well be competitive with an Apple iWatch if and when it's released. But before anyone gets carried away, remember that no reviewer has had a chance to spend much time with the thing yet. And in an early hands-on look, Engadget's Zach Honig found "quite a few shortcomings," including an interface that feels "a bit clunky" and some difficulty activating the S Voice features. The Verge's Vlad Savov found the watch a little bulkier and harder to wear than the Pebble, and added that there's "a tangible lag to anything you do with the Gear." More troubling for would-be Dick Tracys, he noted that "the speaker built into the buckle is too quiet and makes the old sci-fi action of conducting a phone call via your watch a possibility only in quiet areas."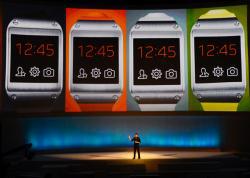 Those without $300 to burn will probably be perfectly content to stick with one mobile device rather than tacking a second one on their wrists. (Isn't technology supposed to make life simpler, rather than more complicated?) Still, it's easy to imagine early adopters getting excited about what appears to be the first full-featured smartwatch from a major manufacturer. And for a lot of people, the prospect of wearing a clunky thing around your wrist probably at least sounds better than wearing a clunky thing on your face. Put another way: If Dick Tracy had to jerk his head upward and fiddle with his glasses every time he wanted to make a top-secret call, he would have been forgotten long ago.
So maybe the Galaxy Gear won't turn out to be a big seller, or even a particularly good piece of hardware. If nothing else, though, it shows the world that Samsung is not content to follow trails blazed by Apple—that it can innovate as well as imitate. Al Gross would be proud.