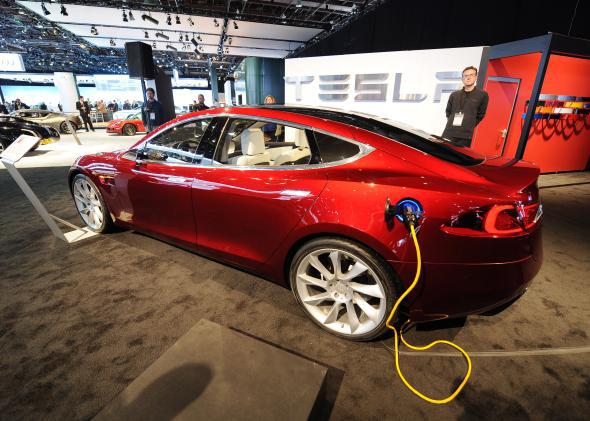 The Tesla Model S has been fêted as one of the best cars ever made, and it's not half-bad for the environment, either. But none of that does a lot of good for the average driver who can't afford the thing. In many parts of the country, it's rare to so much as glimpse a Model S, let alone get a chance to ride in one.
But if you're among the curious, the skeptical, or the obsessed who have not yet had a chance to meet the auto industry's most-hyped offering in decades, Saturday just might be your day. A group of environmental and electric-car-advocacy nonprofits have declared it National Plug-In Day and are putting on events in nearly 100 cities around the United States, the largest of which will be in Long Beach, Calif. In many of those cities, electric-car owners, including Model S owners, will show off their vehicles. Model S owners in at least 33 of those cities will offer visitors free rides, says Zan Dubin Scott, spokesperson for the nonprofit Plug In America. And in at least the following seven cities, Scott says there will likely be free Tesla Model S test drives:
Cupertino, Calif.
Diamond Bar, Calif.
Long Beach, Calif.
Marin County, Calif.
Sacramento, Calif.
Atlanta, Ga.
Charleston, S.C.
The unfortunate thing about that list, of course, is that several of those cities are just the sort of wealthy California enclaves where people already see Teslas every day. But the list of cities offering free rides, at least, is much more diverse, including Chicago, Denver, Dallas, Houston, Indianapolis, Memphis, Philadelphia, Phoenix, Seattle, and Washington, D.C., among others. The full list of cities and details is on the Plug In Day website.
The events will also feature a wide array of other electric cars, including not only the Nissan Leaf and Chevy Volt but rarer birds like the BMW ActiveE and the Zero Motorcycle. 
There was a time not long ago when the electric car looked like a technological dead end. Today it's looking more and more like the future. For that to happen, though, the excitement that Tesla has built around the Model S is going to have to start to rub off a little more on some of its less-pricey competitors. Perhaps the Plug In Day events will help with that.
Either that, or someone—Tesla or otherwise—is going to have to build an exciting electric car that ordinary people can afford.
---