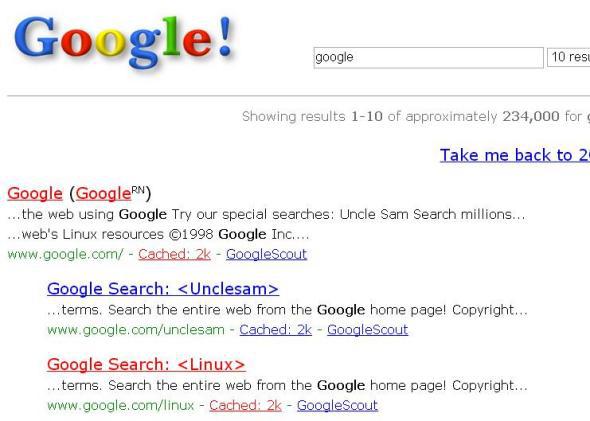 Google is 15 years old today—well, approximately today—and the search engine is going all-out for its Quinceañera.
The most obvious celebratory flourish is today's Google Doodle, which lets you whack a Google-colored piñata by hitting your space bar. For Internet nerds, though, the niftier trick is what happens when you type "Google in 1998" into your browser's search window. The search engine transports you to a results page straight out of its birth year, complete with its googly-looking original logo, which sported a Yahoo-esque exclamation point at the end.
Clicking the links on Google's 1998 results page will take you to archived versions of early Google pages, via the Internet Archive's Wayback Machine. For instance, a page called "Why Use Google?" offered a basic explanation of Google's algorithm, including some boasts about things that Google could do that its competitors could not. For instance:
Unlike many other search engines, Google only returns pages which match all of your search terms, either in the text of the page or in the link anchors pointing to it. No more frustration with your search terms not even being in the results pages.
That does sound like an improvement, although I wonder whether it's still strictly true today. Google was also apparently quite proud of its "I'm feeling lucky!" feature, offering it as whiz-bang proof of just how confident the search engine was that it could get the right result first for "common queries like company names." There's an interesting parallel here with some very recent Google features like "quick answers" and the Knowledge Graph, in which Google responds directly to certain common queries before it even displays the Web search results.
The 1998 results also remind us that before there was google.com, there was google.stanford.edu. Google founders Larry Page and Sergey Brin met as Ph.D. students at Stanford and began working on their search engine there in 1996 before forming the company two years later. What the Wayback Machine doesn't tell us is that, before there was google.stanford.edu, there was BackRub, the original name that Page and Brin gave their project. We can thank Page and Brin for a lot of things today, but let's not forget to thank them for taking a few minutes to come up with a better name before they formally incorporated. Otherwise, today we'd be celebrating 15 years of BackRubbing things, and people, and ourselves.
---