At a launch event in Cupertino, Calif., on Tuesday, Apple unveiled its latest hardware, replacing the iPhone 5 with two alternatives: the high-end iPhone 5S, which starts at $199, and the cheaper iPhone 5C, which starts at $99.

The big news, in short: The 5S has an unprecedented 64-bit processor and a fingerprint sensor on its "home" button, while the 5C has a plastic case and comes in a wide variety of colors. Both will go on sale Sept. 20 in the United States.

The iPhone 5C is, in the company's words, "beautifully, unapologetically plastic." The casing for each phone is made from a single piece of polycarbonate, reinforced with steel and containing an embedded antenna. As widely anticipated, it comes in a splash of color options: blue, white, pink, yellow, and green. Like the iPhone 5, it will have a four-inch screen, an 8-megapixel camera, and an A6 processor, along with a revamped "Facetime HD" front-facing camera and a slightly larger battery. The 5C will start at $99 with a two-year contract for a 16-gigabyte version. A 32-gigabyte version will run $199.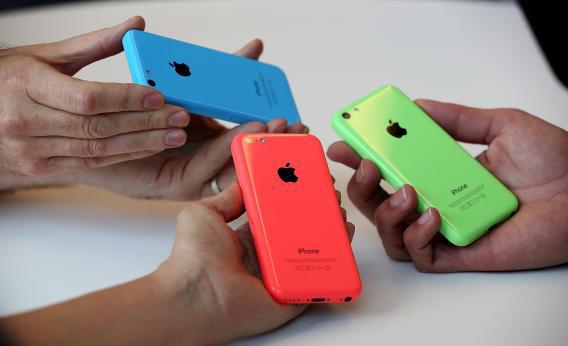 The iPhone 5S is the shinier, fancier sibling, billed as the world's first 64-bit smartphone. Its aluminum body will come in silver, gold, and "space grey." While it will still run 32-bit apps, Apple has redesigned the phone's native apps to run on the new, 64-bit A7 processor, which the company says will make it twice as fast as the iPhone 5 and 5C. The phone appears to be optimized for graphics and gaming, with a demo at the event prompting my colleague Farhad Manjoo to remark, "No joke: The gaming performance on this thing looks incredible." Battery life will reportedly be the same as in the iPhone 5, which in my experience has not been great.

The 5S also comes with something called an M7 motion coprocessor, which harnesses the phone's accelerometer, gyroscope, and compass to get a fuller sense of your movements, including the ability to tell whether you're driving, walking, or standing still. The camera has also been upgraded, with a larger sensor and the ability to take multiple photos in rapid succession and then choose the sharpest one. A two-tone dual-LED flash is meant to result in more natural-looking colors when you take a picture in low light. And you can shoot video at 120 frames per second, which can be played back in crisp slow-motion.
But the most novel feature is the fingerprint sensor. The touch sensor, built into the phone's main "home" button, allows you to scan your fingerprint so that only your touch will unlock the phone. You can also set it up to require your fingerprint rather than a password when downloading new apps or buying things on iTunes. To prevent someone from stealing your fingerprint, the scan is not copied to Apple's servers.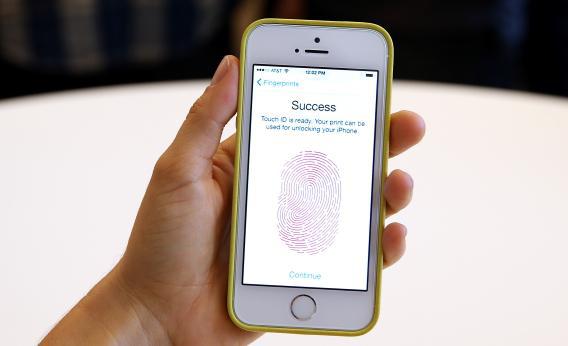 As with the iPhone 5 when it came out, the 5S will start at $199 for 16GB, $299 for 32GB, and $399 for 64GB, all with a two-year contract. While the iPhone 5 will no longer be produced, the previous-generation 4S will still be available, now free with a two-year contract.

The new phones will go on sale Sept. 20. That's two days after Apple's new mobile operating system, iOS 7, is scheduled to be available for download, purging the skeuomorphism from the iPhone's interface.

As usual, Apple executives were not at a loss for superlatives when it came to describing the new phone. Phil Schilller called the 5S "perhaps the most-forward thinking phone anyone has ever made." As for the 5C, Jony Ive weighed in with a somewhat Systrom-ian koan: "It's quite remarkable when something feels familiar and yet is new at the same time." Jony, I think the word you were looking for is "disappointing." As in, it's quite disappointing when a supposedly new iPhone feels so familiar.
Slow-motion videos and fingerprint sensor notwithstanding, the new phones may not have enough gotta-have-'em gewgaws to rebuild Apple's momentum. A dip in the company's shares on Tuesday suggests Wall Street, at least, was not overawed. On the other hand, the 5S seems to be quite a substantial upgrade from a technical standpoint, which should ensure that those customers who do upgrade are not disappointed. For now, Apple seems content to leave the gimmicks to its competitors—particularly Samsung, whose phones have been sprouting features like eyeball-tracking and optional $300 Dick Tracy accessories.
For a while there, Apple's products were both the most inventive and the most refined on the market. At this point, they'll have to settle for being the most refined.

This post was updated as more information became available.