Al-Shabab, a Qaida-linked Somali insurgent group known for brutal, terroristic tactics, has claimed responsibility for the grisly massacre at a mall in Nairobi today. That in itself is unsurprising: The perpetrators of political violence have long sought media attention for their cause. What is new is the degree to which al-Shabab in particular makes use of social media to broadcast its side of the story directly to the public.
As I wrote in a 2011 feature story about the group's Twitter presence, al-Shabab has long made canny use of the platform both to rile its enemies and to counter mainstream-media portrayals of its actions and aims. For months it carried on a Twitter feud with Kenya's military spokesman, Emmanuel Chirchir, as Shabab fighters clashed with Kenyan forces bent on incapacitating it. (Kenya has led offensives into Somalia in recent years, apparently with the tacit approval of the Somali government, which has struggled to put down the insurgency.)
Al-Shabab's former Twitter accounts, including @HSMPress and @HSMPress1, have been suspended in the past, likely under a clause in the Twitter Terms of Service that prohibits direct threats of violence. Each time, however, the group simply creates a new account. On Sept. 10 I got an email from the group's press office informing me that I could now follow the new handle @HSMPress, "for the Mujahideen's take on the events in Somalia as well as current events in the wider global context."
Today, as the bloodshed has unfolded in Nairobi, @HSMPress has been tweeting along in an apparent bid to explain and justify the killers' actions. The tweets may give some insight into the group's thinking, but take them with salt: The group's allegiance to facts is tenuous, and there is a strong chance that its attempts to justify the slaughter of unarmed civilians will make you seethe.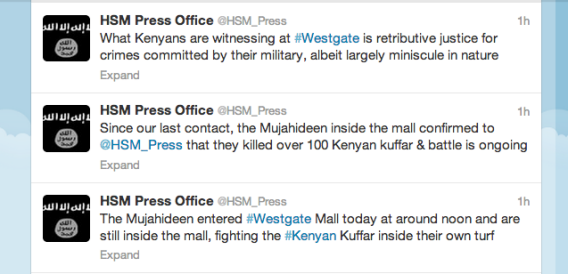 Update, Sept. 21, 5:34 p.m.: Unsurprisingly, Twitter appears to have suspended the account. I've emailed Twitter for comment and will update if they reply. In the past, Twitter has declined to comment on individual accounts, instead referring media to its Terms of Service, which include the following:
Violence and Threats: You may not publish or post direct, specific threats of violence against others.
Related on Slate: