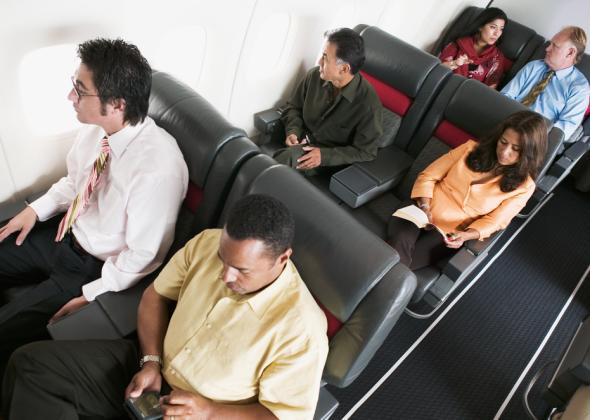 Flight attendant: "Please power down your electronic devices for takeoff."
Passenger: "Sure thing. Is Airplane Mode OK?"
Flight attendant: "No. You have to turn it all the way off."
Passenger (peevishly): "But it's called Airplane Mode!"
Sound familiar? It may not be for much longer. The Associated Press reports today that federal regulators are moving toward a rule change that would allow passengers to leave their iPads, Kindles, smartphones, and other electronic devices on during takeoff and landing. A 28-member Federal Aviation Administration advisory committee voted Thursday to formally recommend the change, anonymous sources told the AP. If that's true, the FAA will be under heavy pressure to go ahead and approve the eased regulations.
To be clear, passengers still won't be allowed to talk on their phones or use the Internet on their devices during takeoff and landing. (And, thankfully, it's unlikely they'll be allowed to talk on their phones at any point during the flight anytime soon.) But they will be allowed to work offline, including working on an Excel spreadsheet or reading an e-Book or watching a movie they've downloaded.
Erring on the side of caution when it comes to airplane safety makes sense. Even if the FAA approves the rule change, it may still require airlines to get their fleets approved individually before they can lift the restrictions. But at this point it seems clear that devices in Airplane Mode pose no threat to flight controls. No study yet has found any evidence of such interference. Last year even the chairman of the FCC urged the FAA to loosen its rules. And as the AP notes:
Delta Airlines said in a letter to the FAA last year that out of 2.3 million flights over two years, the airline received 27 reports from pilots and maintenance crews of possible device interference. None of the reports could be confirmed, the letter said.
The New York Times reported earlier this week that the FAA advisory panel was meeting to consider the changes. The AP's report today indicates that the panel has in fact voted to recommend them. Now it will be up to the FAA to approve them. How long that will take is unclear, but Missouri Sen. Claire McCaskill, for one, is eager for a decision. If the FAA doesn't "act swiftly" to lift the restrictions, she told the AP, she'll introduce a bill to get them moving.
---