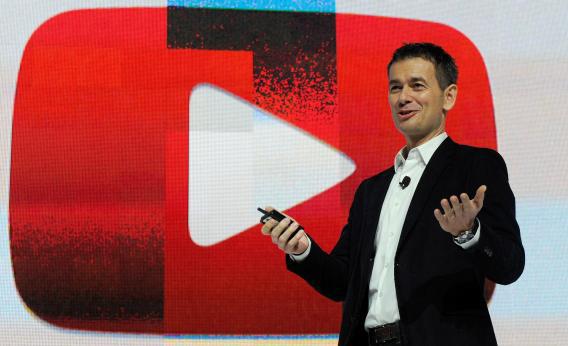 From the "tantalizing rumors" department, AllThingsD cites anonymous sources saying that Google and NFL chiefs met on Tuesday and may have mentioned the possibility of streaming games on YouTube.
The idea is an appealing one in a lot of ways, which is perhaps why some media outlets have taken the ball and run with it. "Google, feeling lucky, may bid for NFL Sunday Ticket," reports CNBC. "Google Reportedly in Talks With NFL to Show Games on YouTube," claims Mashable.  But based on the original AllThingsD report, that seems like a bit of an end run around the truth. Here's what AllThingsD's Peter Kafka actually reported:
Today, according to sources, Google CEO Larry Page, along with YouTube content boss Robert Kyncl, met with a delegation from the NFL led by commissioner Roger Goodell. And the Sunday Ticket package was among the topics of discussion, according to people familiar with the meeting.
A Google rep declined to comment, and I'm still waiting to hear back from an NFL rep.
An informal chat is a very long way from a deal, so there's no need to invest too much in the conversation quite yet. And I'm told that Goodell and other NFL executives are meeting with multiple Silicon Valley companies on this trip, which is one they make annually. …
So, the actual story here is that the NFL met with Google, along with several other Silicon Valley companies, to discuss a range of topics, one of which was (reportedly, via anonymous sources) the league's Sunday Ticket subscription-TV package. All else is circumstantial evidence.
Yes, the league's $1 billion-a-year contract with DirecTV is set to expire after the 2014 season; yes, YouTube has been growing more interested in TV-style content, including live sports; and yes, Google possesses the type of money that would be needed to be a part of such talks. But before we get carried away, it's worth noting that the NFL is also meeting with DirecTV and cable TV companies about the deal, according to CNBC. And Engadget's Richard Lawler explains one good reason why the NFL may hesitate to work with a partner like Google that could bring its games to a far wider audience: "a fear that other networks like CBS and Fox would want to pay less to broadcast those games."
That sort of artificial scarcity might seem a little perverse to the average fan, but it's central to the TV industry's efforts to discourage cord-cutting and remain relevant in the YouTube era. On the other hand, the league is already contracted with CBS, Fox, and NBC through 2022, and with ESPN through 2021, thanks to a set of extensions signed in December 2011. And who knows what the television landscape will look like by the time those expire. So perhaps those partners will have less leverage in the Sunday Ticket talks than Lawler fears.
Still, it's too early for anyone to hold their breath. Remember last year, when a breathless report by the Mail Online set off widespread speculation that Apple TV would buy the rights to English Premier League soccer games? Google was also mentioned in the attendant media furor. But the rumors were quickly debunked, and the U.S. rights eventually went to NBC, which just broadcast its first slate of games this past weekend. NBC is streaming all the games online via NBC Sports Live Extra, but that's scant consolation to cord-cutters and international audiences: The service requires you to verify that you're a cable, satellite, or telco TV subscriber.
---