Just when you thought it had gone clean, Zynga is back in court.

The troubled social-gaming startup may have given up on real-money gambling, but apparently it isn't done rolling the dice on attention-grabbing trademark-infringement lawsuits. Bloomberg reported this week that the San Francisco company has filed a complaint in federal court against the makers of the "Bang With Friends," a deliberately obnoxious Facebook-based sex app. Its claim: "Bang With Friends" sounds too much like Zynga's game Words With Friends, not to mention a bunch of other Zynga games whose names also end in "With Friends." From the complaint:
This is a case about illegal free riding on valuable intellectual property rights. The "WITH FRIENDS" brand is strong and has been associated with one company—Zynga. Now defendant Bang With Friends has entered the market unlawfully using Zynga's WITH FRIENDS brand with the offering of a service for casual sex.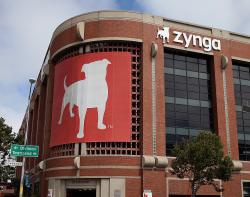 Right—and perhaps no company in Silicon Valley knows more about free riding on other people's apps than Zynga. Remember, this is the company that got sued by the makers of Mob Wars for its game Mafia Wars, sued by the owners of the Oregon Trail trademark for trying to add an "Oregon Trial" extension to its game FrontierVille, sued by the makers of The Sims Social over similarities in its game The Ville… and the list goes on.
After years of taking it, Zynga has clearly learned to dish it out as well, alleging trademark infringement against the makers of Blingville, the makers of Quackville, and the makers of PyramidVille for their use of the suffix "-ville." At this point, one of the longest sections of Zynga's Wikipedia entry is the one titled, "Intellectual property controversies and litigation." And that doesn't even include the vast majority of game ideas and titles that Zynga essentially stole from itself, including but by no means limited to Scramble With Friends, Hanging With Friends, Chess With Friends, Matching With Friends, Gems With Friends, and Running With Friends.
It's unclear to what extent the latest suit represents a genuine legal gripe, a cynical ploy for money or attention, or a desperate cry for help. Given that "Bang With Friends" is barely a real entity, let alone a threat to anyone's business, I'd wager on the last.
Zynga is perhaps the prototypical instance of a publicly traded company whose narrative arc tracks that of the tragic modern-day Hollywood celebrity. Having blundered into sudden fame and riches, then faltered in the face of unrealistic expectations, Zynga peered into the abyss of its own hollow soul and has been reeling drunkenly from one scandal to the next ever since. It is, in short, the Lindsay Lohan of Silicon Valley startups.
There was brief hope that the company could be saved by placing it in the custody of a responsible adult, but that has been dashed. Its fall is an indictment not only of itself and its legal guardians but of you, me, and the entire rotten culture that spawned it. Shareholders, I know you mean well, but at this point your money and support are only making things worse. Cruel as this may sound, the only way to help Zynga now is by cutting it off.