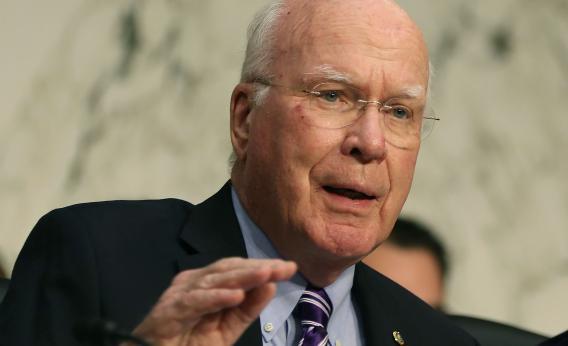 Last week, an effort in Congress to scale back the NSA's surveillance of Americans failed after a close vote. But another new law that could significantly rein in the government's spy programs is being proposed.
As part of a bipartisan push to reform surveillance laws, Sen. Patrick Leahy, D-Vt., has introduced the FISA Accountability and Privacy Protection Act of 2013. The bill aims to bring more judicial oversight, public accountability, and transparency to the secret surveillance powers used by the NSA and FBI, focusing specifically on controversial sections of the Patriot Act and the Foreign Intelligence Surveillance Act. The bill is co-sponsored by nine senators, including several outspoken critics of current spy laws, like Mark Udall, D-Colo., Ron Wyden D-Ore., Jeff Merkley, D-Ore., and Mike Lee, R-Utah.
The bill would, among other things:
Narrow the scope of the section 215 of the Patriot Act, the law used by the NSA to gather millions of Americans' phone records on a daily basis. Under Leahy's bill, to obtain the data the government would first have to produce a statement of facts showing that it is relevant to an authorized investigation and that there is a link to a foreign group or power.
Allow for judicial review of "gag order" provisions of the Patriot Act that can stop a recipient from challenging a nondisclosure order until one year has passed.
Bring forward the sunset clause of the recently renewed FISA Amendments Act by more than two years, to June 2015, enabling a sooner "re-examination" of the controversial spy law.
Require the inspector general of the intelligence community to conduct a comprehensive review of the FISA Amendments Act and its impact on the privacy rights of all Americans.
Mandate the production of an unclassified report for the public that would review the impact of the government's secret surveillance powers on the privacy of Americans.
Leahy, who is separately pushing to update an outdated privacy law to protect email from warrantless snooping, says he has been trying for the last two Congresses to bring reform to the surveillance laws, but so far he has been unsuccessful. This time, however, his chances of success are surely markedly higher. More so than at any time in more than a decade, concern is mounting about the extent of the NSA's sweeping surveillance programs, which have been exposed to an unprecedented level of public scrutiny and debate following a series of leaked secret documents in June. Last week, in a sign that support for the government's spy initiatives is waning, an amendment that would have cut funding for the NSA's mass phone records collection was defeated in the House by a narrow 205-217 majority. The vote, described as "extraordinary" and "amazing" by senators who have been pushing for reform of surveillance laws for years, was taken as an indication that support is rapidly growing for enhanced oversight measures because in recent years votes on reining in NSA surveillance powers have usually been voted down with much larger majorities.
On Wednesday, the Senate Judiciary Committee, which Leahy chairs, will host a public hearing on privacy issues in the wake of the disclosures about the NSA surveillance programs. Senior officials from the NSA, FBI, and the Justice Department will be attending—and can expect to face what will no doubt be a severe grilling from Leahy. "I remain deeply concerned about the expansive use of government surveillance under FISA," the senator said in a statement announcing the hearing. "As I have said, just because we have the ability to collect huge amounts of data, it does not mean that we should be doing so."
---