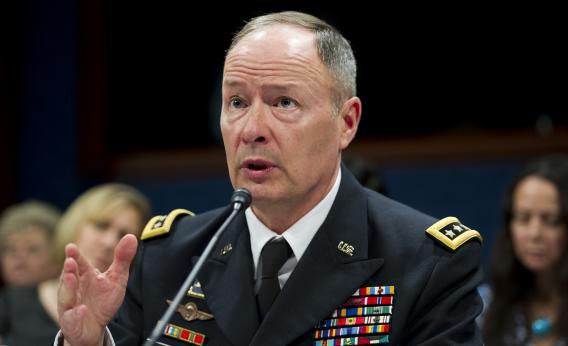 After weeks of controversy over its surveillance programs, the NSA appears to accepting that it may have to make some changes.
In a speech at the Aspen Security Forum Thursday, NSA chief Gen. Keith Alexander acknowledged that the agency was open to considering a new data retention regime that would significantly reform a recently revealed NSA mass database that collects millions of Americans' phone records on a daily basis. At the Aspen event, Alexander agreed that possible reforms to the program could involve bringing in a new data retention regime. This would mean that the NSA would not automatically, on a daily basis, be obtaining a constant stream of Americans' phone calls. Instead, the phone companies would be forced to hold on to the records, and the NSA would have to request the necessary data for each case under investigation. Such a system may alleviate fears that the NSA is sitting on a huge trove of call records that, under cover of secrecy, could potentially be open to abuse. But these sorts of proposals would not be immune from criticism, particularly as the United States has until now resisted mandatory data retention laws—unlike in Europe, where data retention was implemented across the EU following a 2006 directive, despite privacy groups' protests.
Alexander's comment in Aspen that a new data retention system was "something we should consider" was quickly latched on to by critics of the current phone records program. On Friday, Rep. Adam Schiff, D-Calif., put out a statement saying that a new data retention regime "is not only technically feasible, but would better respect the privacy interests of the American people."  Schiff, who is a senior member of the House Intelligence Committee, added that such a change would also mean that it would no longer be necessary for the government to obtain "vast amounts of data unrelated to a specific investigative lead."
During his Thursday speech, Alexander did take time to staunchly defend the phone records database as the "right thing" to protect against acts of terrorism. However, that the NSA chief qualified this by saying he was open to possible reform of the current program indicates that the outrage over the phone records collection is beginning to have a tangible impact. Earlier this month, Sen. Ron Wyden, D-Ore., told the New York Times that he believed the Obama administration was "getting concerned about the bulk phone records collection." White House officials, Wyden said, "are thinking about whether to move administratively to stop it."
But the administration does not seem to have come to a decision quite yet. The secret court order that first exposed the phone records program had been due to expire at 5 p.m. on Friday—yet the government chose to renew it.
This blog post has been updated with the latest information.
---