Reminder: Matt Yglesias and Farhad Manjoo are wargaming a fanciful, definitely-not-actually-true version of what might happen if Google and Apple went to war. You can see how the battle began here.
As of Oct. 5, 2013 Apple has:
Cash on hand: $145 billion
Employees: 80,000
Territory held: A campus in Cupertino, Calif., hundreds of retail stores, and (via subcontractors) a vast array of Chinese factories.
Laughter breaks out at the Apple board meeting. Blocking Google services from iOS devices cripples Google's revenue stream in a direct and immediate manner. Eliminating Apple from Google's search results will, at worst, erode Apple sales over time. Time Apple has to spend on countermeasures. Barack Obama and Mitt Romney spent a total of $900 million on their effort to secure the White House in 2012. The 2013 ad spending binge to promote the use of alternate search engines is going to dwarf that. Every state's a swing state in this race, so Apple spends $200 million in the first month after Google's move alone. The message is simple—Google is a menace and their results can't be trusted.
Meanwhile, Tim Cook rings up his Internet Services chief and CFO Peter Oppenheimer to talk acquisitions. The name Duck Duck Go doesn't exactly ring out on Main Street, but people in the tech world know it as the hot Google rival. It doesn't just compete in search. It competes in philosophy. No tracking of users' search history means more privacy, but less potential for ad revenue. But Apple's got plenty of revenue. What it needs is to offer the world a first-class Web search service to destroy its strategic rival. $500 million and some stock later, Duck Duck Go is Apple's; the company buys every ad slot during Monday Night Football to introduce it.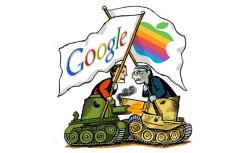 Then there's video. Brightcove is listed on the NASDAQ at a market capitalization of a mere $260 million. Apple gets it for $330 million—child's play for a company as cash-rich as Apple. What's the point in making the profits if you can't spend them when needed? Running ad-free search and video services won't work forever, but Apple's got more than enough profitability and money in the bank to keep them going until Google goes under water. Anything Google can do, Apple can do—well, if not exactly better, then at least free of annoying tracking, advertising, or manipulation of search results to punish rivals.
Pondering the news, Jonny Ive mentions that Steve Jobs didn't believe in big acquisitions. "Steve's dead," Cook says. "This is war."