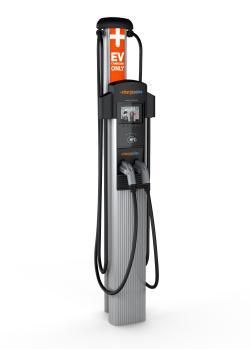 If you drive an electric car, you're probably familiar with ChargePoint. But even if you're still driving an old-fashioned gas-guzzler, maybe it's time you got to know the Campbell, Calif.-based startup. 

ChargePoint is the largest operator of electric-vehicle charging stations, with some 12,000 publicly accessible chargers across 14 countries, including about 70 percent of all U.S. chargers. Right now, it's a small market. But it won't be for long if cars like the Tesla Model S and the suddenly resurgent Chevy Volt and Nissan Leaf continue to catch on.
That's why it's noteworthy that ChargePoint is about to launch its next-generation charging station. The company plans to announce the new product, called the CT4000, later this week, but chief executive Pat Romano gave me an early look at it. At first glance, it's similar to other AC electric-car chargers, albeit with a few bells and whistles, like an LCD screen for video advertisements. But it has an advantage over all the AC charging stations that have come before: It can charge two cars at once. That means, essentially, that the cost to install an electric-car charger will be cut in half. And that is good news for the entire industry.
For years, four main drawbacks have kept electric cars from competing with their gas-powered counterparts. One is their price. The second is their performance. The third is their limited range. And the fourth is the absence of a nationwide network of recharging stations. The first, price, is still an issue. But Tesla has solved the second, emphatically, and appears to be well on its way to solving the third. And companies like ChargePoint are quietly working on solving the fourth.
The idea is not to replicate the national network of some 160,000 gas stations, Romano told me in a phone interview Monday. It's to build a different type of network—one centered on parking lots for retail stores and office buildings, rather than roadside rest stops. There, drivers can plug in and fill up at their leisure using level-two AC chargers, which are much slower—but also much cheaper—than DC charging stations like Tesla's Superchargers.
"Driving an EV is different from driving a gas car," Romano says. "With a gas car you drive around until the little yellow [gas] light comes on, then you find a gas station and fill up." But, short of resorting to Elon Musk's battery-swapping stunts, there's no way to recharge an electric car as fast as you can refuel a gas car. Instead, Romano says, your goal is to keep the equivalent of the little yellow gas light from ever coming on—by topping up the battery whenever possible.
Most electric-vehicle drivers charge their cars at home in their garage overnight. That's convenient, but it means that their mobility during the day is limited. If they can plug in at their office while they work, though, that effectively doubles the car's range, without any added inconvenience. And if they can count on finding chargers in the parking lots of grocery stores, Wal-Marts, municipal parking lots, and the like, then keeping the battery topped up becomes a cinch—and range anxiety, the curse of the EV driver, fades away.
That vision is already starting to become a reality in the San Francisco Bay Area, the unofficial capital of the electric-car world. ChargePoint's station-finder map lists more than 1,000 publicly accessible in-network charging stations in the region. Romano lives in Los Gatos and drives a plug-in hybrid Fisker Karma, which can go for about 40 miles in all-electric mode before the gas-powered engine kicks in. He says he rarely has to stop for gas anymore. Given the proliferation of charging stations, "I can leapfrog from electric lily pad to electric lily pad without thinking." 
ChargePoint's goal is to do the same for every major city across the United States. The business model: sell chargers to companies, public agencies, and retail chains like Target and Safeway, then sign up drivers and help them find and pay for their electricity via a mobile app and credit card. ChargePoint doesn't sell the actual electricity—it's up to the owners of each charging station to do that, or to give it away for free if they choose. (Most charging stations were free at first, but that's changing as electric vehicles become more popular.) ChargePoint makes some of the hardware, including the new CT4000, but its core business is the network itself, which also includes lots of charging stations made by other manufacturers.
In that respect, the company's largest rival is ECOtality, whose Blink network offers its own charging stations, mobile app, and payment system. But the rivalry is friendly: In March, the two announced a partnership that will allow their members to use each other's networks for a small fee, similar to the way banks share ATMs. Together the networks comprise 90 percent of the country's public charging stations, and Romano says he hopes other companies will join, too.
The collaboration makes perfect sense in a market so young and with so much potential. The real battle at this point is not between ChargePoint and ECOtality, but between electric cars and gas-guzzlers—which is why ECOtality spokesman Scott Watkins tells me his company welcomes ChargePoint's new dual-charging technology. "Any innovation in the space is definitely welcome, because it will just further the industry, which is good for everyone," he says. Everyone, that is, except for the oil companies and gas-station owners, who may find their monopoly on auto fuel less secure in the new century than it was in the last.
---