The resignation of Barnes & Nobles' CEO William Lynch Jr. earlier this month fed ongoing debates regarding the decline of chain bookstores. If Barnes & Noble, the only national bookstore chain, falls prey to declining customer interest like Borders did a few years back, will bookstores cease  to be a part of our everyday lives? David Carr argued in the New York Times this week that the existence of bookstores benefits Amazon. For instance, he said, there was a decline in ebook sales after Borders' demise, because customers were more likely to order books online if they could browse the stacks at their local bookstore first.
Even though my college-student budget dictates that I buy more books on Amazon than at bricks-and-mortar shops, I still reward myself with a visit to Barnes & Noble or a local bookstore after a tough week. And I want to believe that bookstores will not vanish. Still, Andrew Rhomberg at Digital Book World would beg to differ. He argues that bookstores may hold their grip on culture and continue to attract book lovers, but this won't keep them from going under.
This comic from Angela Liao at 20px (via Mashable) provides some solace. Maybe the bookstores of the future will not resemble those we love today, but what if they looked something like this?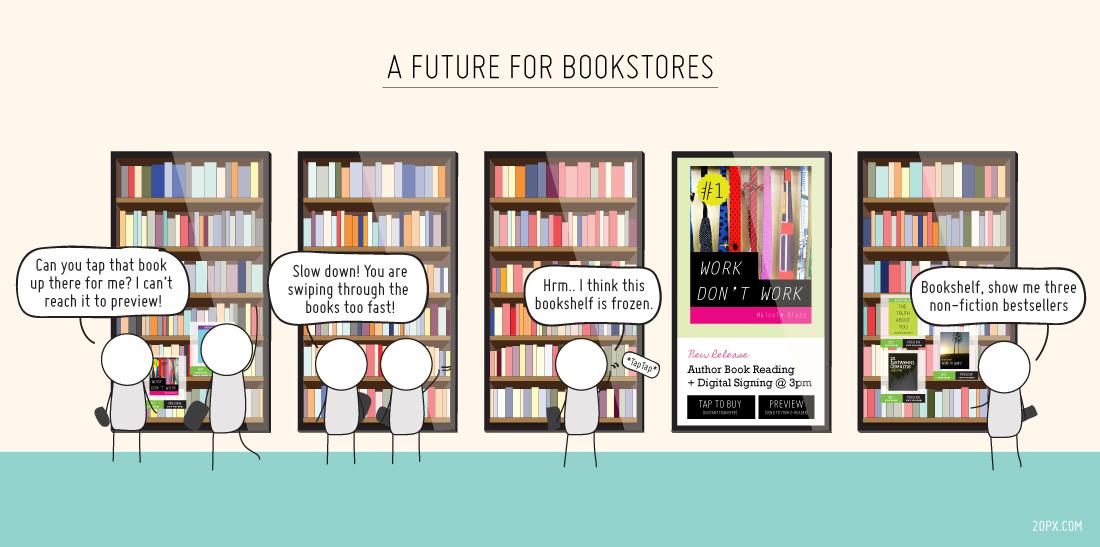 Of course, this would mean that all books will be e-books, which brings up different concerns for those of us who remain attached to books as objects. After a life of toting around well-worn (decaying) paperbacks, I remain wary of e-books. But hey, as long as my childhood dream of owning a bookstore isn't completely obsolete, I'll take this one.