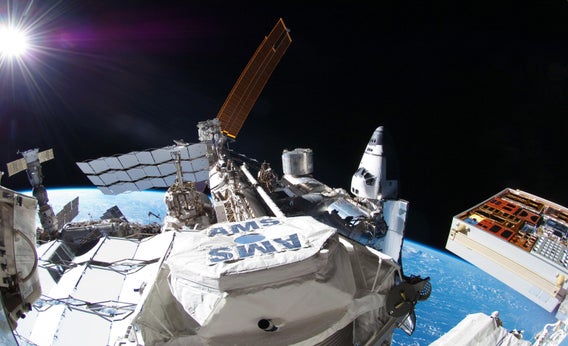 I went to space camp when I was little. We dropped eggs from a roof and watched an iMax show. It was awesome. But high-schoolers these days have the opportunity to participate in a competition that pilots micro-satellites on the International Space Station.
The annual Zero Robotics tournament is sponsored by NASA and the European Space Agency as a way to get secondary school students interested in science, technology, engineering, and math, aka STEM. And you have to give it to them: Nothing says "science is cool" quite like jet-powered robots in space.
The bots are called SPHERES, or Synchronized Position, Hold, Engage, Reorient, Experimental Satellites. Back on Earth, teams of students write algorithms to control the SPHERES in order to solve a problem astronauts actually encounter. This year's task has yet to be revealed—Alvar Saenz Otero of the MIT Space Systems Laboratory tells me such things are a tightly kept secret, but that "it will have to do with space topics that are in the minds of scientists and maybe people in general." (So, my guess is chest-bursters.)
In 2009 the teams had to maneuver a helper satellite around a blocker satellite (whose job it is to get in the way) in order to deliver a tool. Other tasks have included assembly and formation flight. (Or maybe this year it'll be to take up tweeting duties now that Commander Hadfield has left the ISS?)
Of course, they aren't just letting any program loose inside the space station. (And no, there will be no rocket launchers, chainsaws, or flamethrowers.) Teams must pass three levels of competition before they get to test their mettle in zero gravity. These include a proposal phase in which students outline their solution to the problem and 2-D and 3-D simulations to test their algorithms.* Those who make it then get to watch astronauts load up their algorithms and execute them via a live feed with the crew. 
According to Otero, "The winners get a framed SPHERES patch that has flown in space to display at their school." (Unfortunately, the 2012 prizes are still waiting on a fresh shipment of patches from space. Otero says they hope to have them this winter.) If you know some high school kids that are up to the task, applications are open. (Update, June 21: While the original deadline for applications was July 1, they will now be accepted throughout the summer.)

*Correction, June 21, 2013: This blog post originally said that preliminary rounds of the competition include ground demonstrations at MIT. While the contest used to include ground demonstrations, it no longer does.

---