We live in a new golden age of maps. Once the province of big, professional operations like Rand McNally and National Geographic, cartography is becoming a more democratic realm thanks to publicly available data and software tools. Thanks to online marketplaces and crowdfunding platforms, amateurs and hobbyists can now draw up maps with a niche focus and a geeky appeal and make a little money in the process.
So now we have maps like David Imus' hand-drawn opus, which has found a market thanks to a rave review from my colleague Seth Stevenson. We have issue-focused maps like Alfred Twu's fantasy high-speed rail map, which reignited a debate over the country's stalled high-speed rail plans. We have interactive online maps that make a point or provide a public service, like Slate's gun-deaths map or ProPublica's impressively detailed New York flood-insurance map, which lets you compare FEMA's official maps to the actual damage from Hurricane Sandy.
And then we have people making maps for the sheer fun of it. In that category is Simon Schuetz's Kickstarter project to create a global "bucket list" map, filling in the borders of the world's nations not with road markings and city names, but with lovingly scrawled illustrations of the one-of-a-kind sights you can see there. Zambia sports a cartoon of Victoria Falls; a silverback gorilla stalks the Democratic Republic of the Congo. Schuetz and illustrator Lars Seiffert have nearly finished Africa and are asking for donations to finance their work on the rest of the world.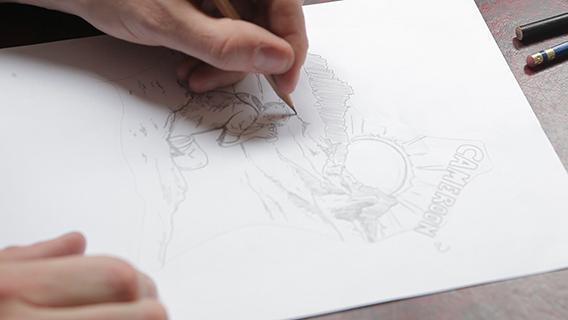 The map is a more ambitious follow-up to the team's previous three world maps, which focus on surfing, snowboarding, and soccer, respectively. Some might object that it bespeaks a privileged outlook to paint the world as a playground for recreational activities, to the exclusion of practicalities and political and cultural complications. But there are plenty of other maps out there that do the opposite. And that's the thing—amateur maps like these don't have to appeal to everyone, or take into account every possible objection. That's what differentiates them from the sterile road maps you can buy at the gas station, and from Google's ubiquitous (and now algorithmically enhanced) online maps. And it's what gives them a kinship to the wonderfully imaginative "here be dragons" maps of ages past.

Schuetz's startup, called Awesome Maps, wears its irreverent approach on its t-shirt sleeve. The motto: "We're German, we've got beards, and we're making maps awesome again." They are—and so are a lot of other people. It's a glorious time to be a geography buff.