Let me be clear here: THIS IS THE SINGLE GREATEST AD OF ALL TIME.
OF ALL TIME.
If you haven't seen it, take a look.

So. Many. Inside. Jokes. Leonard Nimoy singing to himself slayed me, but you have to understand why. Also, the lens flares as Zachary Quinto drives off in his car…masterful.
But I noticed something I haven't seen anyone else mention. When Nimoy is at his house, on the phone with Quinto, we get a good shot of his bookshelf: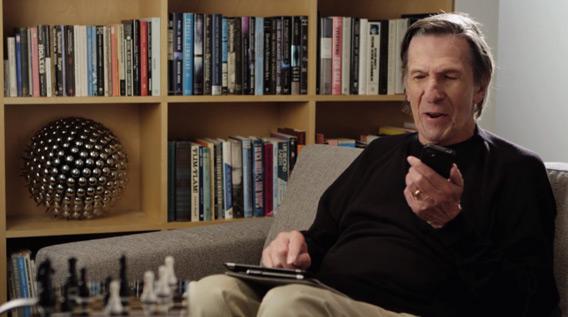 When I saw that, I do what I always do when I see a bookshelf: I scan the titles. And what leapt out at me?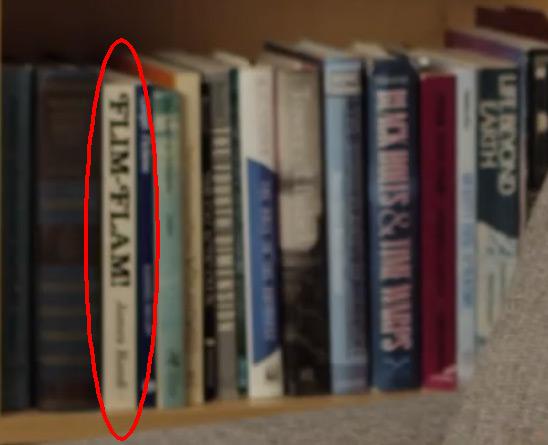 Ha! "Flim-Flam!", by my old friend James Randi. I have a copy on my own shelf; it's Randi's best-known work, and a fantastic guide to pseudoscience, from seances and spoon-bending to fairy sightings and dowsing rods. Even better, I had to chuckle ruefully knowing Nimoy hosted "In Search Of", a show I loved as a kid even though it took a not-very-skeptical look at a lot of pseudoscience.
I don't know if that's actually Nimoy's book, let alone his bookshelf. I rather hope it is (and not just because I choose to believe that sculpture is actually the Fesarius). It makes me smile with delight thinking so.