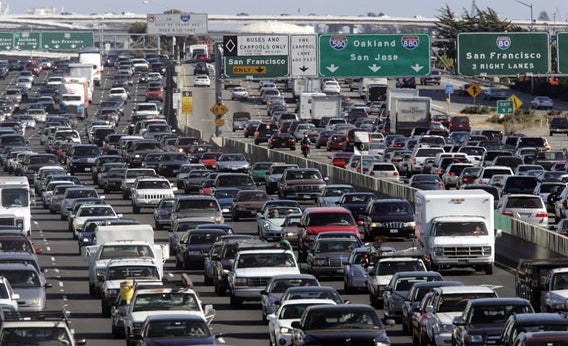 The automobile advocacy organization AAA forecasts that 31.2 million people will drive to their Memorial Day destinations this weekend, up 0.25 percent from last year. Media outlets announce the AAA road travel prediction for most holiday weekends. How accurate are they?
They're usually within a couple of million. The AAA holiday travel forecast is based mostly on economic conditions, including unemployment figures, home values, the stock market, and gas prices. The days and dates on which the holiday falls also factor in, although AAA doesn't reveal exactly how the data are combined to produce a forecast. Their accuracy is variable. Last year, AAA predicted that 30.7 million Americans would drive to their Memorial Day destinations. Survey data suggests that the actual figure was 31.1 million. The group was also less than a million travelers off in 2011, but it has had a couple of bad years as well. The 2010 forecast missed by 3 million, an error of more than 10 percent. The 2008 forecast was off by 5.6 million travelers, or a whopping 18 percent. There doesn't seem to be an obvious bias—the Memorial Day forecast has been both above and below the actual travel results in recent years.
It's probably not a great idea to base your weekend travel decisions on the AAA forecast. The group's predictions relate only to trips of more than 50 miles, so even when they are accurate, they don't fully reflect traffic congestion. Traffic forecasting is notoriously unreliable, in any event. Researchers have long complained that projections are hopelessly optimistic and consistently wrong. In addition, the best traffic models rely on real-time information, or at least data collected within hours or days. The AAA survey is based on information collected a month before the report is released.
Got a question about today's news? Ask the Explainer.
---