Google has waged a long and brilliant campaign to stoke anticipation and demand for Project Glass, the futuristic smart glasses that can shoot video and take phone calls. After offering only peeks and teases for months, the company last month announced a "Glass Explorers" contest, inviting members of the public to apply for a chance to be among the first to buy and test out the device. Those interested were instructed to post the hashtag #ifihadglass to Twitter or Google+ along with a proposal for how they would use the product. A spokesman told Future Tense's Adam Sneed the company was looking for creative ideas from a wide range of backgrounds, lifestyles, and hobbies, to make sure Glass would be used in all kinds of activities.
On Tuesday, the company began announcing the winners, and their proposals are indeed diverse. There's a woman from Missouri who wants to take the glasses to a VA hospital and let veterans see their war memorials; a San Francisco zookeeper who would use them to broadcast penguin feedings; and the novelist Gary Shteyngart, who tweeted that he would use them to dream up ideas for a TV adaptation of his latest book. Also selected was Adria Richards, who was unjustly fired by SendGrid last week after a tweet she sent from a tech conference prompted an outpouring of vitriol from the Internet's ugliest corners. Her proposal, penned before the firestorm: "#ifihadglass I would show introverts how to create authentic connections in real life like I've learned to do."

Inspired choices, all. It will be interesting to see what they come up with. But, respectfully, I'd quibble with Google's judgment in at least this one selection, which Gizmodo's Sam Biddle flagged on Twitter: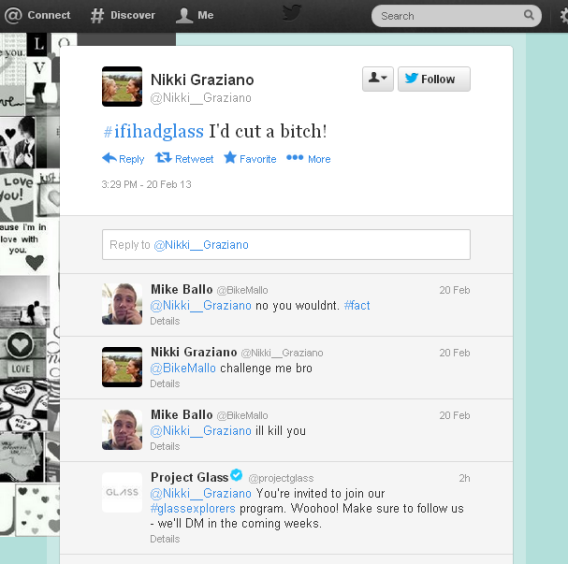 That sounds… dangerous?
When I asked Google reps for the rationale behind this particular selection, they said they were not sure and are looking into it. The company notes that the 8,000 contest winners were actually not selected by Google employees, but by an independent panel. Hindsight is 20/20, of course, but I'd say that independent panel's list of choices could have used a second pair of eyes.
UPDATE, Wednesday, March 27, 11:17 p.m.: Turns out that was far from the only dubious Glass proposal that the company rewarded with an invitation to join its Explorers program. New York's Dan Amira rounded up enough to make him wonder whether the winners were chosen entirely at random. 
But at least no one need fear being "cut" by the would-be Explorer noted above. In a statement Wednesday evening, the company said, "it's become clear that a few applications that don't comply with our terms have slipped through the cracks, and we're going to have to disqualify applications like these." So far they've disqualified two, including Graziano, who is clearly amused by the whole thing. 
So the takeaway here is that Google actually wasn't being all that selective about who it will allow to fork over $1,500 for a pair of smart glasses. Or at least no more selective than Tom Sawyer was about who he'd let whitewash his fence.