Two years ago, the Huffington Post wrote a now-legendary post headlined, "What Time Does the Superbowl Start?" As Deadspin's Barry Petchesky explained last year, the story itself consisted mainly of the game's start time, and the misspelling of "Superbowl" was intentional. The goal was to top Google's search results for that exact query, and it was a smashing success, directing untold numbers of Web searchers to the Huffington Post page.
That's called SEO—search-engine optimization—and it's a big part of what made the Huffington Post one of the Web's most-visited news sites, ahead of more staid (or scrupulous) outlets like the Washington Post and Los Angeles Times. But the glory days of SEO, at least in this form, are fading.

In a follow-up to last year's post, Petchesky today observes that the Super Bowl SEO-trawling is looking a little sad this year. "It might be a lost art," he suggests. Either that, or it has been so well co-opted by the NFL itself that everyone has given up.
Petchesky may be right that "SEO-whoring," as he calls it, is on the wane. But he's got the wrong culprit. After all, it isn't actually the NFL.com page that shows up first when you search "What time is the Super Bowl" (or "What time is the Superbowl," etc.) on Google. It's this:
That's not a link to anyone's website. It's Google's own "quick answer" to your search query. These answers predate, but are related to, the company's rapidly expanding "Knowledge Graph," a vast internal "semantic network" that links natural-language queries to facts about the world, culled from an array of sources that includes Wikipedia and the CIA World Factbook. The basic idea: Why force users to sift through a bunch of links to external sites when they just want a straight answer to a simple question? Building such a database is harder than you think: Not only are there an awful lot of facts in the world, but teaching machines to even understand the question involves sophisticated language-processing algorithms. That's one reason Google has some of its best people working on it.
One might ask, then, whether this quest is worth the trouble. After all, what was so bad about a world in which a bunch of enterprising third-party websites tripped over each other to offer users the best answer to some of Google's most frequently-asked queries? The answer is, in short, that the future of search is mobile. It's one thing to spend an extra minute or two sifting through a page of links on your desktop computer, but it's a lot more annoying on your smartphone. And that's just the beginning. If you thought the iPhone screen was a little cramped for Web browsing, just try doing it on your Google glasses or Pebble smartwatch.

It isn't just Google that's working overtime to solve this problem. You might have heard of an Apple product called Siri. She's far from perfect, and when I asked her today, "What time is the Super Bowl?", she pulled up the results from last year's New York Giants victory. But when I amended that to, "What time is the Super Bowl 2013?", she responded without hesitation: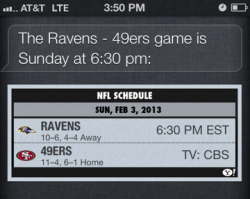 Google's voice-search app did Siri one better, answering straightaway without forcing me to specify the year:
Why did Petchesky overlook the fact that it's the search engines themselves, and not NFL.com, that are moving the SEO goalposts? I can only surmise that he was using Bing: