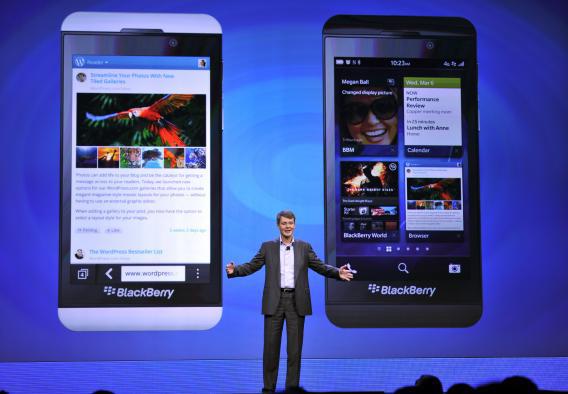 Before this morning's long-awaited launch of BlackBerry 10, the big question was whether the new smartphone operating system would be good enough to save Research In Motion, once the hottest company in the mobile-device business. The answer came immediately: no. Because Research In Motion is now BlackBerry.
Chief executive Thorsten Heins announced the corporate name change just before unveiling the new OS and two new smartphones at an event in New York City on Monday. The OS is BlackBerry, the phones are BlackBerries, and now the company is BlackBerry. "We have transformed ourselves inside and out," he said by way of vague explanation. The company formerly listed as RIMM will now be BBRY on the NASDAQ ticker.
With the fresh start comes an overdue overhaul of the company's signature (and now eponymous) mobile operating system. The Blackberry 10 OS will debut on a phone called the BlackBerry Z10, to be followed shortly by the Q10, which will sport a throwback keyboard with actual keys.
So, to rephrase the original question, will the new BlackBerries be good enough to save BlackBerry? Judging from the launch event, it's possible, but far from certain. The Z10's price and specifications are roughly comparable to those of its leading competitors, and it will be available on all four major U.S. carriers. The battle will be won or lost, then, largely on the user-friendliness of its operating system. At Monday's launch, Heins and software chief Vivek Bhardwaj demonstrated a raft of promising-looking features. Perhaps most notable is Blackberry Hub, a unified feed that displays all of your emails, text messages, phone calls, Facebook and Twitter notifications, and calendar events together. You can reveal it or stow it away by swiping your thumb across the screen, allowing you to take a peek at your latest message without leaving whatever app you're in at the time.
Also noteworthy is the Z10's keyboard, which is not shy about trying to predict what you're typing before you've finished the word. If it guesses right, you can select the word with an upward flick and move on to the next one. Another unusual feature is BlackBerry Balance, which gives you the ability to toggle between "work" and "personal" modes for the device as a whole. For instance, you can swap out your Angry Birds-type apps and cutesy desktop background for your productivity apps and a more professional appearance. And while the camera is relatively standard, a clever option called TimeShift lets you snap several shots in quick succession, so that if someone blinks in a group photo, you can sub in a better image of their face taken just a moment before or after.
Since 2008, Research In Motion's stock has dropped from almost $150 a share to under $15, and its smartphone market share from 46 percent to a paltry 2 percent. A lot of people were ready to bury the company ahead of today's event. "RIM will announce today that they're almost feature parity to 2010 with other major smartphone platforms," one wag tweeted. 
As it turns out, though, the new BlackBerry is in some ways more modern than the latest iPhone or Android devices. Its heavy focus on gesture-based controls, integration with social networks, and collapsing of the distinction between phone calls, chats, text messages, and other forms of communication are all thoroughly of-the-moment. And the Canadian firm's global outlook—Monday's launch was held simultaneously in New York, London, Toronto, Dubai, and Johannesburg—could help it regain traction in markets that Apple has often treated as afterthoughts. (In fact, the company is launching the BlackBerry 10 just about everywhere else before the United States, where it won't ship until March.) In an early review, the Wall Street Journal's Walt Mossberg called the Z10 "a work in progress," but added that it "has a chance of getting RIM back into the game, if the company can attract a lot more apps." Research in Motion is dead, but BlackBerry may yet have a long life ahead.
Then again, the company also announced Monday that it had hired singer Alicia Keys as its "global creative director." Has the world learned nothing from Polaroid and Lady Gaga?
---