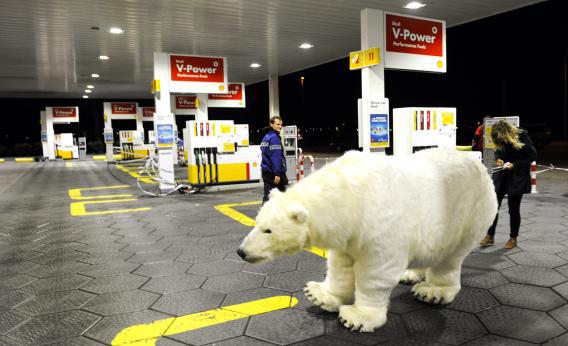 One of Shell's resolutions for 2013 is to expand its controversial drilling operations in untapped Arctic waters. It's off to a bad start.
On Monday, the 266-foot drilling rig the Kulluk broke free from tow lines in stormy seas and ran aground on a small island near Kodiak, Alaska, the Los Angeles Times reports. It had first snapped free on Thursday on its way back to port in Seattle after drilling test wells in the Arctic earlier last year. The rig's 17 workers were lifted to safety by Coast Guard helicopters Thursday, and the tow lines were reattached over the weekend as storms continued. But on Monday, amid 70-mph winds and 40-foot waves, the lines were disconnected again to avoid danger to the crew of the tow ship.

The rig is carrying about 139,000 gallons of diesel fuel, but so far the Coast Guard has not detected any spills, according to the New York Times. Still, the incident is another blow to Shell's Arctic drilling program, which was already delayed last year due to a separate accident. Conservation groups have seized on the incidents as evidence that the program is too perilous, both to the crew of the ships and to the Arctic environment.
---