2012 wasn't a breakthrough year for tech. We didn't get an innovative new category-bursting device—the Apple TV remains a pipe dream and Microsoft's Surface was, for me, a dud. Many startups, meanwhile, seemed like they were offering new takes on ideas the tech world has been playing with for a while. (How many ride-sharing services does the world need?)
But this was a year for improvement: Everything good got much, much better. That's the theme you'll notice below, in my list of the best technologies of 2012. Four of the companies I laud—Apple, Google, Amazon, and Square—offered radical improvements of their core products. And then there are a couple of head-smackingly obvious innovations, too. On to the list.
The iPhone 5 (with Google Maps). From $199 with a two-year contract.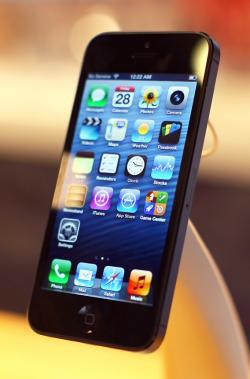 Let me just quote from my review (headline "The iPhone 5 Is a Miracle"):
[The iPhone 5] is the best phone ever to grace the earth. It beats every single rival on just about every metric you can think of, including speed, battery life, and especially beauty and workmanship.
I'll go even further: When I pick up the iPhone 5 and examine it closely, I find it difficult to believe that this device actually exists. The iPhone 5 does not feel like a product that was mass produced. In a strange way, it doesn't feel like it was built at all. This is a gadget that seems as if it fell into the box fully formed. If you run your hands around its face, you scarcely feel any seams or other points of connection; there's little evidence that this thing is a highly complex device made from lots of smaller things. Instead it just feels like a single, solid, exquisitely crafted piece of machinery, and once you pick it up you never want to put it down.
A couple months later, I continue to feel the same way. The iPhone 5 is my favorite gadget of the year and certainly the best smartphone I've ever used.
Sure, like other reviewers, I wasn't happy with Apple's mapping app. But I argued that it wasn't a big problem, because soon Google would release a maps app for iOS, making the iPhone 5 even better.
That happened last week. The app is fantastic. So now you're all set. You've got no excuse for using any other phone.
The iPad and the iPad Mini. From $329.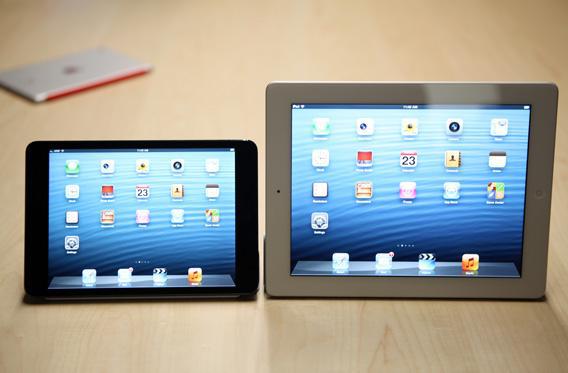 In March, just after Apple announced what many people called a slight upgrade of its tablet—adding a high-definition screen and faster cellular networking—I called the iPad "unbeatable." I argued that, in the same way that it had dominated the market for music players with the iPod, Apple was improving its product, lowering its prices, and broadening its lineup just fast enough to keep its rivals in the dust.
Then, in the fall, Apple strengthened my argument. Not only did it launch a fantastic, smaller, cheaper iPad—the Mini—to capture the low end of the market, it also put out a new, faster, regular-size iPad. In a year of intense competition in tablets, with better devices from Google, Samsung, Amazon, and Microsoft, the iPad remains by far the best on the market, especially if you take into account its dominant App Store. If Apple keeps doing what it's doing, it's hard to see how anyone can catch up to the iPad now.
One more thing on Apple: I debated adding the Retina MacBook to this list. Apple's high-definition laptop is one of the best PCs I've ever used. But I found both the 13- and 15-inch models were still too heavy and expensive ($1,699 and $2,199) to best the MacBook Air, my go-to laptop. If Apple adds a high-definition display to the Air, that will make my day.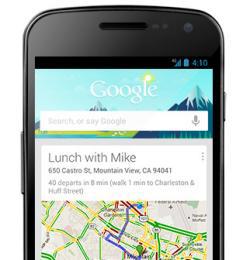 In the summer, Google unveiled Now, an Android feature that automatically alerts you to relevant information about where you are and what you're supposed to be doing. It's like a mind-reading personal assistant: If you're going on a trip, it tells you about traffic on the way to the airport, gives you your boarding pass, shows you the weather at your destination, tells you how to get to your appointment, and shows you the best restaurants near your hotel.
All this might sound unexciting—you already look up this information on your phone using your calendar, email, and the Web. But Now has it all in one place, and it usually shows you this stuff without your explicit request. By monitoring your email, location, and search habits, and by crunching all that data, Now predicts what info you'll need next and serves it up for you. (Do you find this creepy? I don't; one man's creepy is another man's very handy. That's why it's opt in.)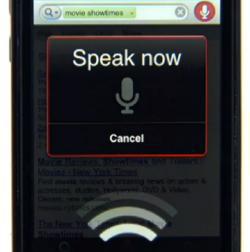 Voice Search, which has long been available on Android and was added to Google's iOS app this year, is similarly great. Unlike Apple's useless voice assistant, Siri, Google's is good enough to make me change my habits—now, I sometimes speak instead of typing my queries. And it keeps getting better. Google's voice-recognition prowess is built upon a mountain of search data, meaning that as long as Google remains the best search engine, its capacity for speech will continue to expand.
Yes, I do recognize the incongruity of praising two Android features—three if you count Google Maps—while simultaneously lavishing acclaim on the iPad and iPhone. But that's the world we live in. Apple is making the best mobile devices and Google is making the best mobile services. They're better together.
I discovered this free outlining app this summer, and it's since become my main tool for organizing everything I do. I use it to jot down most of my notes, to keep my lists (story ideas, to-dos, groceries) and for anything else I want to remember. I'd be lost without it.
Card.io and Jumio's snap-your-credit-card feature.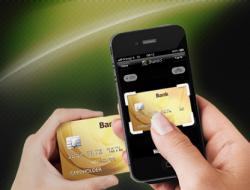 These firms offer a brilliant feature that solves the biggest hassle of signing up to a commercial service using a smartphone—entering in your credit card information. Now, all you have to do is aim your phone's camera at your card, and it quickly scans your credit card info. Because these companies license their system to developers, you'll find the feature in many great mobile apps.
I first spotted it in Uber, the ride-hailing app, but you'll also see it in apps from PayPal and Task Rabbit. Apple also recently added a way to redeem iTunes gift cards with your Mac's camera. I hope other companies follow suit.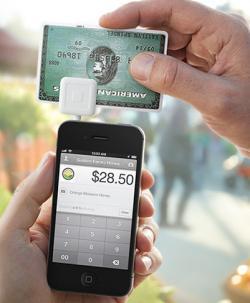 In September, I called Jack Dorsey's payments startup Silicon Valley's next great company. The firm won me over by providing the best payment experience for both consumers and businesses. Square lets you pay just by saying your name—as long as you have your phone on your person, you don't have to bother with swiping a card or waving it against a paypad. It lets businesses accept credit cards for fees as low as 1.3 percent per transaction.
This year Starbucks announced that it would use Square for its payments, giving lots of people a reason to sign up for the service for the first time—which, in turn, will spur other businesses to sign up in order to attract all those customers. Square also launched a gifting service that allows all Square businesses to accept gift cards. Both these additions will grow its network of payers and businesses—and, let's hope, will soon make cash a thing of the past.
Same-day delivery (from many retailers and startups).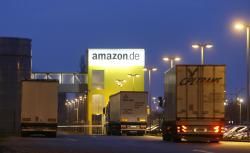 Thank Amazon for this. This year Jeff Bezos dropped his long-standing opposition to collecting sales tax from customers. He's now moved on to building shipping centers in metro areas around the nation in an effort to dramatically speed up shipping times. Though the company has been cagey about its plans, I argued in July that Amazon seems to be aiming to make next-day shipping its default and same­-day shipping a cheap add-on in many different places. At the moment, it offers same-day service in 10 cities, including New York, Chicago, Boston, Washington, and Seattle.
Amazon's move has spurred many of its rivals—including Wal-Mart—to launch same-day service. And it has also fueled a boom in same-day startups. Among those is Postmates, whose Get It Now app lets you get anything in your city delivered for a small fee.
You might notice a theme in these last few technologies: Square and Card.io help companies accept payments. Postmates and Amazon let them deliver their goods locally. All these firms are building a new, digital, mobile infrastructure for commerce, one that could prove especially useful to small businesses. For the firms that will benefit from these advances, 2012 may well have been a very good year.