In a pair of new interviews, Apple CEO Tim Cook said his company will start manufacturing Mac computers in the United States next year.

"Why can't you be a 'Made in America' company?" NBC's Brian Williams asked Cook in an interview that will air tonight. Cook began by noting that Apple does make the iPhone's engine in the United States, and the glass comes from Kentucky. Then he added, "We've been working for years on doing more and more in the United States. Next year, we will do one of our existing Mac lines in the United States."

When Williams asked how much more Apple products would cost if they were manufactured entirely in the United States, Cook replied, "Honestly it's not so much about price, it's about the skills, etc. Over time there are skills that are associated with manufacturing that have left the US. … It's a concerted effort to get them back."
Cook made similar comments in a wide-ranging interview with Bloomberg Businessweek editor Josh Tyrangiel. "We're really proud of it," he said of Apple's plans to bring Mac manufacturing onshore. "We could have quickly maybe done just assembly, but it's broader because we wanted to do something more substantial. So we'll literally invest over $100 million. This doesn't mean that Apple will do it ourselves, but we'll be working with people, and we'll be investing our money."
He didn't specify which Macs the company would make in the United States. But the news seems to dovetail with recent tech-blog rumors that some new iMacs are labeled "Assembled in USA."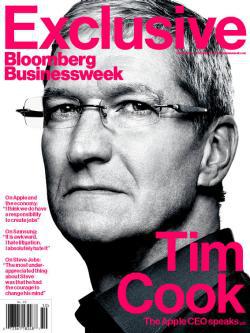 For years Apple has manufactured most of its products in Asia. Whether the shift to domestic production is a blip or the start of a trend remains to be seen. Rising labor costs in China have been making U.S. manufacturing more attractive in general in recent years.
In the Businessweek interview, Cook also addressed the Apple Maps debacle and the exit of Scott Forstall, the senior vice president in charge of mobile software. On the maps he was blunt: "We screwed up," he told Tyrangiel. But he insisted the move to bring maps in-house was a sincere attempt to make a better product, not just a strategic maneuver in a rivalry with Google. On Forstall he was long-winded and oblique, but his point was clear if you consider that he used the word "collaboration" seven times in his response. Some have chalked up Forstall's ouster to squabbles over skeuomorphism, but Cook's reply lends credence to the rumors that people just didn't like working with the guy.

NBC's interview will air Thursday night at 10 p.m. on Rock Center with Brian Williams. A preview is here. Businessweek's interview is the cover story of an issue that will be on newsstands starting Friday. For now, it's online here.