Early in October, I got a call from Bayard Winthrop, an entrepreneur who claimed to have created the world's best hooded sweatshirt. Because I found this claim amusing—who sets out to make the world's best hoodie?—I agreed to chat with him about the sweatshirt and his company, a San Francisco-based apparel startup called American Giant.
I thought it would be a polite interview that would go nowhere, but I quickly found American Giant's story irresistible. For one thing, Winthrop had figured out a way to do what most people in the apparel industry consider impossible: He's making clothes entirely in the United States, and he's doing so at costs that aren't prohibitive. American Apparel does something similar, of course, but not especially profitably, and its clothes are very low quality. Winthrop, on the other hand, has found a way to make apparel that harks back to the industry's heyday, when clothes used to be made to last. "I grew up with a sweatshirt that my father had given me from the U.S. Navy back in the '50s, and it's still in my closet," he told me. "It was this fantastic, classic American-made garment—it looks better today than it did 35, 40 years ago, because like an old pair of denim, it has taken on a very personal quality over the years."
But few companies make sweatshirts—or any clothes, really—like that today. In the 1970s, when the fashion industry morphed into a mass-market business dominated by mall stores, its marketing and distribution costs began to skyrocket. To keep retail prices down, companies began to shrink the price of producing clothes. Today, when you buy a hooded sweatshirt, most of your money is going to the retailer, the brand, and the various buyers that shuttle the garment between the two. The item itself costs very little to make—a $50 hoodie at the Gap likely costs about $6 or $7 to produce at an Asian manufacturing facility.
American Giant has found a loophole in the process. The loophole allows Winthrop to spend a lot more time and money producing his clothes than his competitors do. Among other things, he was able to hire a former industrial designer from Apple to rethink every aspect of the sweatshirt, from the way the fabric is woven to the color of the drawstrings around your neck. The particular loophole that Winthrop has found also explains why he wanted to chat with a technology reporter: It's called the Internet.
American Giant doesn't maintain a storefront, and it doesn't deal with middlemen. By selling garments directly from its factory via the Web, American Giant can avoid the distribution costs baked into most other clothes. American Giant's basic sweatshirt sells for $59, while its full-zip hooded sweatshirt—i.e., the classic hoodie—goes for $79 (including shipping and free returns). That's more than you'd pay for a basic hoodie at the Gap or American Apparel, but it's comparable to hoodies from Levi's, J. Crew, or Banana Republic.
But there is really no comparison between American Giant's hoodie and the competition. It looks better and feels substantially more durable—Winthrop says it will last a lifetime. When you wear this hoodie, you'll wonder why all other clothes aren't made this well. And when you hear about how American Giant produced it, it's hard not to conclude that one day, they all may be.
Why is this hoodie so amazing? First, it's made of heavyweight cotton. Most other sweatshirts on the market today are made of some kind of blend, usually cotton and polyester. The cheaper the sweatshirt, the more polyester. (American Apparel's hoodie, which sells for $46, is 50 percent polyester.) Not only is a polyester blend cheaper than cotton, it's also easier to work with, allowing for faster, lower-cost production. Blended fabrics shrink more predictably than cotton, letting manufacturers get more consistent clothes without much more effort. Blends can also be made to take on a variety of textures—the soft, fluffy inside lining on a cotton/poly blend hoodie, for instance, is just as easy to achieve as the smooth outer layer. To create the same soft interior in cotton, American Giant has to send its material through machines that pick loops of thread out of the fabric. That isn't a cheap process.
But the result is worth the effort, because heavyweight cotton is the ideal material for a sweatshirt. When you run your hand against American Giant's hoodie, you find a finely textured, rugged, warm exterior. People in the apparel industry refer to this as a "dry hand feel," while polyester has a slightly slick, "wet" feel. To me, the best adjective is expensive—the cotton feels spendy between your fingers, while a blend feels like it could break down after a few years. That's likely true, too. After repeated runs through a washer and dryer, polyester blends become brittle and tattered, the fabric pilling unattractively. High-quality cotton will endure the elements and repeated washings and emerge looking only better.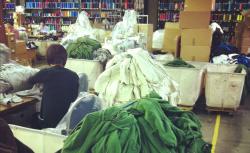 One morning in November, I met Philipe Manoux, American Giant's creative director, at SFO Apparel, the manufacturing facility just south of San Francisco where the company makes its clothes. As we toured the facility—a giant warehouse with dozens of middle-aged women hunched over sewing machines, each of them assembling a different piece of a garment—Manoux explained how he'd created American Giant's hoodie. He had come to the apparel world from a career in industrial design; in addition to Apple, where he worked on the coverglass and touch module for the first iPhone, Manoux spent many years in the medical device industry. When he started at American Giant, he approached sweatshirts as he would a tech product: He obsessively experimented with perfecting every part, then created dozens of prototypes until he'd arrived at an ideal version.
The result is a sweatshirt with several design elements you won't find on the competition. The most obvious difference is that American Giant's hoodie is fitted—it sits close around your chest, then gently tapers in around your stomach, resulting in a garment that doesn't look slouchy. At great expense—and after lots of experimentation—Manoux added a "side-panel" to the hoodie, a strip of stretchy fabric that joins the back of the hoodie to the front. The side panel gives the hoodie "mobility," Manoux explained—it allows you to raise your arm all the way up without feeling the whole coat ride up on you. It also insures the hoodie against future expansion: As your stomach grows larger, the stretchy fabric will grow along with it.
There are many other such tiny, thoughtful details. For the cuffs, Manoux chose a fabric with some spandex, which will prevent the sleeves from getting stretched out over time. (While the ribbing is 5 percent spandex, the body fabric is entirely cotton.) He also used heavy-gauge thread for all the seams, creating connections that won't fray. (The company tested the seams' "burst strength.") The hood's drawstrings and the backing along the zipper are also all dyed to match the color of your hoodie. (Cheaper hoodies use contrasting white strings and zipper-backs with every hoodie color.) Most people won't notice these details, but they add up to a remarkable garment. Before I wore American Giant's hoodie, I couldn't ever picture a hoodie looking unslouchy. This one makes it look like you spent a minute considering your wardrobe before you rushed out the door.
For a lot of people, this all might sound like overkill—a beautiful hoodie might strike you as oxymoronic and superfluous, and you'd just as well spend your money on high fashion rather than a slacker uniform. But even if you aren't a fan of sweatshirts, American Giant's business model is worth watching. Like American Apparel, the company has staked its brand reputation on making its clothes in this country. But American Giant's rationale isn't merely a patriotic one. Winthrop argues that by making clothes in America, he can keep a much closer eye on the quality of his garments, and he can make changes to his line with much more flexibility. An Asian manufacturer wouldn't have been able to do all of the custom, intricate work that American Giant's clothes required. On some of the hoodie's seams, for instance, sewers have to run three different pieces of fabric under the machine, a move that required close collaboration between Manoux and SFO Apparel to perfect.
The upshot of this model is not only a revival of American manufacturing—you also get better garments at competitive prices. Winthrop wouldn't tell me the exact cost structure for each of his sweatshirts, but he did give me ballpark numbers. A basic American Giant sweatshirt costs the factory $12 or more to make—about double what it would cost a foreign factory to make a much lower-quality garment. American Giant pays the factory about $25 to $30 each, and then it sells it to you for $60 and up. Compare this to a model under which you'd buy standard sweatshirt at the mall—say, this $58 Levi's crewneck. The department store likely buys that shirt from Levi's for about $30. Levi's, in turn, pays the factory about $12 to $15 for it, and the factory likely makes it for $6. So you're paying 10 times what the shirt costs to make, and Levi's is earning $18 per garment. With American Giant, you're paying five times what the shirt costs, and American Giant is earning $35. Since there's no retail middleman, everyone does better under the American Giant model—the clothing company, the factory workers, and you.