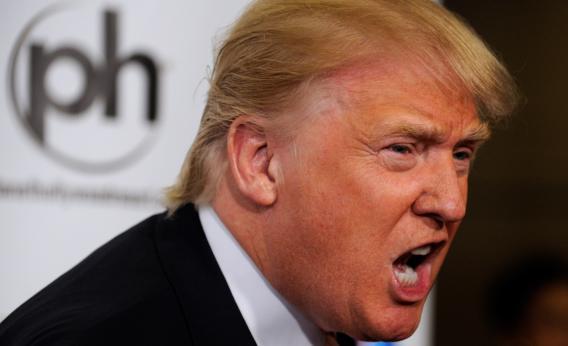 In addition to being a great source of breaking news and bon mots, Twitter provides us all the opportunity to bask in the failings—or, in tweetspeak, "FAILS"—of random strangers. Sometimes these #FAILS will come from a celebrity like Kim Kardashian, who last month strayed from her typical schedule of tweets about the Kardashian personal fragrance line to post ill-advised commentary on the Gaza war. Other times they will come from social media managers who accidentally tweet something really dumb from a corporate account when they meant to tweet something really dumb from a personal account.
Twitter FAILS are occasionally deliberate and malicious, but more often than not the incompetence is accidental, the result of misreading the public mood at the worst possible moment or simply saying something that would be better left unsaid. Twitter FAILS are symptomatic of the unprecedented opportunity Twitter and smartphones give all of us to belch out our most banal, potentially idiotic thoughts for the entire world to see without first using the God-given filters known as our prefrontal cortexes and mouths. They are also becoming more and more common, so this year we inaugurate "The Failies," our first-ever Future Tense awards celebrating the worst Twitter FAILS of the year.
If you think we missed anything, please tweet us with the hashtag #2012Failes!
Worst Excuse for a Twitter FAIL: Louis C.K., @louisck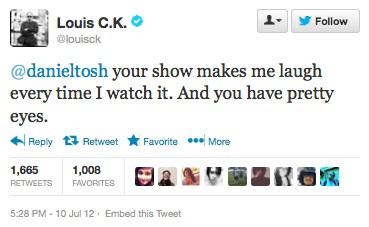 After Daniel Tosh was widely chastised back in June for joking that he'd like to see a heckling audience member be gang raped, Louis C.K. seemingly came to his defense with the above tweet. After taking some well-deserved lumps for this initial #FAIL, Louie went on The Daily Show to say that the tweet was misconstrued. He claimed that he didn't mean to send Daniel Tosh words of encouragement at just the exact moment when he was being knocked upside the head for insensitivity—it only appeared that way. C.K. was on vacation in Vermont at the time and claimed he was largely offline, completely unaware of the furor surrounding Tosh. The excuse seems too coincidental to have been true, and while it might have been part of a larger social commentary about the roles of bloggers, comedians, and feminists in public debate, it didn't past the #FAIL excuse sniff test.
Worst Celebrity Fail: Chris Brown, @chrisbrown

Generally, calling women "hos" is a bad idea, but it becomes even worse when you FAIL at spelling. Worse still is when you tell them to suck your dick. And worst of all is when you're a known domestic abuser. Chris Brown, understandably, quit Twitter temporarily after this #FAIL of epically misogynistic proportions.
Failiest Political Judgment: Dana Loesch, @DLoesch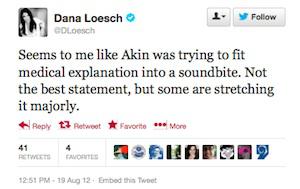 Dana Loesch was one of Todd "legitimate rape" Akin's earliest, stupidest, and (sort of) staunchest defenders despite the overwhelming and immediate evidence that Akin's cause was a lost one. Over the course of her months of Akin tweeting, the conservative CNN contributor also proved herself to be an enormous hypocrite, flip-flopping back and forth and back again in her Twitter defense of Akin. (Disclosure: After I confronted Loesch about her hypocrisy, she told me that I was wrong, dumb, and "high.") Despite Loesch's on-again, off-again "unwavering" support, Akin lost by 16 points. Mega-FAIL, Dana!
Failiest Misinformation Campaign: Shashank Tripathi, @comfortablysmug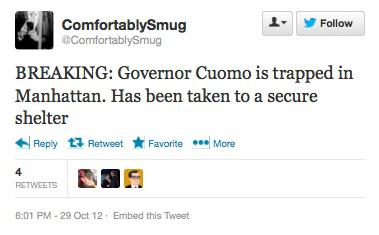 During Sandy, false rumors were being tossed around the Twittersphere like a dangling crane in a tropical storm, and Smug was the worst offender. His irresponsibility and true identity were exposed by BuzzFeed shortly after the hurricane, and he quickly stopped tweeting in the wake of his #FAIL.
Failiest Campaign To Expose Someone's Bias and Wrongness That Only Exposes Your Own Bias and Wrongness: John Podhoretz, @jpodhoretz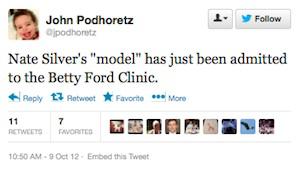 The New York Post columnist and Commentary editor led the Twitter campaign to castigate poll aggregator extraordinaire Nate Silver as a biased leftist hack. Podhoretz's tweets were often funny, but that didn't make him any less wrong. He cleverly referred to Silver's enigmatic mathematical model for predicting the election in the third-person, and gave it human characteristics, like alcoholism and a penchant for fighting Lindsay Lohan. Silver's model proved to have a head on her shoulders, though, predicting all 50 states and the District of Columbia correctly. Podhoretz's model didn't fare so well.
Failiest Premature Attempt To Break News: CBS Sports, @CBSSports

Joe Paterno is dead. No he's not. Yes he is.
Worst Failed Accidental Tweet from a Corporate Account: Stub Hub, @StubHub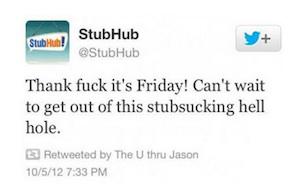 Worst Failed Intentional Tweet from a Corporate Account: Celeb Boutique, @celebboutique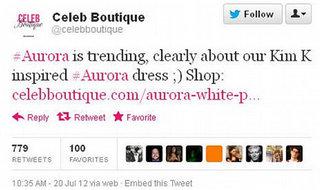 This was also the biggest post-Aurora shooting spree Twitter FAIL. A close second goes to the official journal of the National Rifle Association, NRA Rifleman, for Tweeting "Good morning, shooters. Happy Friday! Weekend plans?" Honorable mention goes to Kenneth Cole for trying to take advantage of the Egyptian revolution to sell blazers while Cairo burned.
Faliest Human Being: Donald Trump, @realDonaldTrump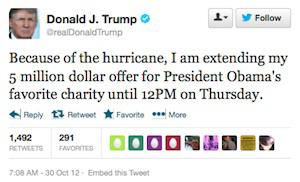 Depending on whom you ask, Donald Trump is either the biggest troll on Twitter or just really dumb. Either way, the above tweet was the lowest moment of a very disgraceful year, and won him top individual honors for Failiest Human Being of 2012. While the bodies were still being counted from the devastation of Hurricane Sandy in his hometown of New York, Trump renewed his already despicable attempt to extort the president of the United States into releasing his college records.
Twitter FAIL of the Year: NBC Sports and Twitter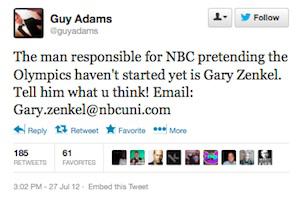 The top prize overall goes jointly to NBC Sports and Twitter for their bafflingly dumb attempt to censor Independent reporter Guy Adams, who painstakingly chronicled NBC's many Olympic broadcasting failures. What got him in trouble was a post announcing the already public email of the president of NBC Olympics, Gary Zenkel. NBC reported Adams to Twitter, which deleted his account even though he had not violated any of the site's rules. Twitter ultimately backed down, reinstating Adams' account and offering a milquetoast defense of its actions. It's all very likely that this was an Olympic-sized misunderstanding on the part of Twitter, but what made it stink of London circa 1858 was the fact that NBC and Twitter were official Olympic corporate partners. And thus, NBC and Twitter share FAIL of the Year for 2012.
Congratulations to all of this year's winners/failures! May your FAILS be even more #EPIC in 2013!
---